BRAK BANK Series 2008Bangladesh vs. New Zealand
Kiwis make a fist of it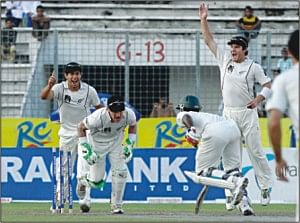 The Sher-e-Bangla National stadium was bathed in brilliant sunshine yesterday as play in the second Test between Bangladesh and New Zealand got underway after three frustrating days of wash-outs.
With only two days remaining, there seemed to be nothing of interest left in the match.But at the end of the fourth day play, it was not all about a merry affair of finishing the match as the ridiculous batting of the Tigers gave the visitors room to even think about a result in the match.
The home side were tottering at 13-3 after New Zealand captain Daniel Vettori decided to make it a contest by declaring their innings for 262-6 with less than an hour's play left on the fourth day.
It may be hard for anybody to imagine anything other than a draw with the fact that the Black Caps have to dismiss the hosts twice before the end of the final day but the way three Bangladesh batsman including captain Mohammad Ashraful got out in one over of Daniel Vettori alarmed many.
It can be a perfect example of how careless a batsman can be by the way Zunaed Siddiqui was dismissed to pave the way for a mini-collapse in the fag end of the match under fading light. As if his side was in hurry for a run chase the left-hander came down to charge none other than the New Zealand skipper in the penultimate over of the day.
If someone is looking for an answer from Zunaed Siddiqui about why the left-hander lost his concentration than the second question would be why Ashraful decided to negotiate last two overs under fading light rather than sending out any night-watchman.
The Bangladesh skipper was courageous enough to take the decision but was not ready to defend his decision as debutant pace bowler Mahbubul Alam appeared to meet the press only to assure everybody that they have still plenty of batsmen to save the team.
"It's disappointing to lose three wickets but we are not scared because still we have batsmen to come," said the young paceman, who along with his illustrious new ball partner Mashrafe Bin Mortaza gave Bangladesh a bright start sending back two New Zealand openers for 10 runs.
There is however a previous unwanted record that will irk the Tigers. They lost a Test match by an innings and 52 runs in 181.4 overs after rain ruined the first two days play in Hamilton in December 2001.
This fact may encourage the Kiwis to make it 2-0 after they won the first Test by three wickets in Chittagong thanks to a brilliant captain's knock from Daniel Vettori.
"I think the first session tomorrow is going to become the big one for us. If we push hard and get early wickets and go on from there then anything is possible for us. Definitely we'll go for a win," said a confident Jesse Ryder when asked whether he expects a result from this match after rain washed out the first three days and the prospects of making Bangladesh follow-on with the target reduced to 100 as this is now being considered a two-day match
"They (Bangladesh players) could be a little cagey tomorrow. If we show a bit of hustle and good body language and come strong then hopefully we can keep them on the back foot," he added.
Ryder also expressed his disappointment on getting out nine runs short of a maiden Test hundred
"It is hard to accept falling short by 9 runs after you have worked so hard to get there. But I will learn from that and go on from there and hopefully in the next innings (it will happen)," he said.