Mahasthan Museum: Relics await identity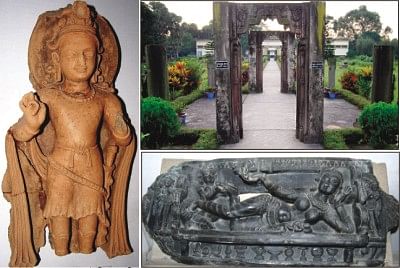 Upon reaching the Mahasthan Archaeological Museum, a keen visitor has to cross a concrete road on foot. Beyond awaits a world of exquisite and ancient art dating back to the Maurya, Shunga, Gupta, Pala and Muslim dynasties.
With a view to educate the young about our ancient culture and exhibit artefacts, the then Pakistan government established the museum in the year 1967. The museum was located at the archaeological site of Mahasthangarh under Shibganj upazila in Bogra district.
Archaeologist Mahabub-Ul-Alam, custodian-in-charge of the museum, said that there are many artefacts in the museum, including unreadable letters. Extensively decorated Shunga plaques along with other artefacts are also on display -- unfortunately without a detailed description.
A clay oven, dating back to 400 BC is one of the most important artefacts at the museum. However, this too lacks adequate description. Same goes for relics from Gupta, Pala and other periods.
A huge number of ancient images and relics are collecting dust in a storeroom. There are samples of indigenous art featured on ancient clay pots. The exquisite design on black stone is sure to captivate the visitors.
A small sculpture called "Benu Gopala," (12th-13th century) made of black stone, is one of the highlights. There is a chain made of clay, with over 1,000 year-old terracotta beads. Rare collections of Northern Black and Polish Ware (NBPW), and Red and Black Ware (RBW) are also on display at the museum.
While some of these relics provide information on the contemporaneous culture, many of them still await for their identities to be confirmed.