Maple Leaf Int'l School stages "Valmiki Pratibha"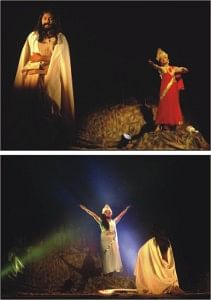 The students of Maple Leaf International School staged Rabindranath Tagore's "Valmiki Pratibha" at the Shishu Academy auditorium on October 23.
At 20, Tagore wrote his first musical, "Valmiki Pratibha," which showcases the metamorphosis of the bandit Ratnakar to Valmiki, who wrote the epic "Ramayana".
Although primarily written and performed as a musical, "Valmiki Pratibha" was adapted into a dance-drama by the Maple Leaf production team.
The plot of the dance-drama centres on the bandit chief Ratnakar, who to appease the Goddess Kali, asks his followers to kidnap a young girl from the neighbouring villages for sacrifice. The indomitable bandit chief is moved by the pleas of the young girl on the altar prior to the sacrifice and decides to let her go.
Neither Ratnakar nor his band of brigands can comprehend the sudden change in him. Realising that their chief is no longer interested in the regular activities of pillaging and plundering, Ratnakar's followers desert him.
During this unsettling time Ratnakar comes upon two hunters in the act of killing a pair of 'krounchomithun' (cranes). He tries to stop them but in vain. Soon the cries of a bird for its dead mate is replaced by the wails of the young girl in captivity. And in that instant Ratnakar is blessed by the Goddess Saraswati for his atonement. With her boon Ratnakar utters the first 'shlok' that heralds the birth of the immortal poet Valmiki.
Unique in its operatic presentation, "Valmiki Pratibha" was first staged in December 1881 at the 'Biddawajjan Samagam Sammilani' where Tagore himself played the titular role. Through it, Tagore, who was then influenced by the spectacle of European opera, vigorously explored a wide range of dramatic styles and emotions, including usage of revamped 'kirtans', Indian folk and traditional raaga based compositions blended with the adaptation of traditional English and Irish folk melodies.
Azizur Rahman Tuhin directed the dance-drama. Fariha Hashmi played the role of Valmiki. Nashiba Nowar provided the vocals for the role.