Sangskriti Bikash Kendra celebrates 17th anniversary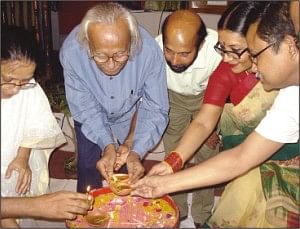 Cultural organisation Sangskriti Bikash Kendra (SBK) arranged a three-day programme to celebrate its 17th birth anniversary at its premises, starting from October 23, according to a press release. Renowned artist Qayyum Chowdhury inaugurated the programme.
Professor Liaquat Ali, president, SBK; actor Al Mansur, journalists Shaheen Reza Noor, Parvez Hossain and Ahmed Mazhar, among others, were present at the programme.
The inauguration was followed by a discussion arranged by Darshan Club. Dr. Mahmudur Rahman presented the keynote paper. Ahmed Musanna and Sabbir Ahmed Mukim were the discussants. Singer-musician Shayan was the moderator of the discussion.
Six short films made by six young filmmakers were screened after the discussion. Audio Visual Club arranged the film screening.
The first day's programme wrapped up with a 'jugalbandi' of poetry and music by Anandan.
Photography and sculpture exhibitions are also included in the three-day programme.