Parties should stop JS boycott culture
Says AL leader Abdur Razzak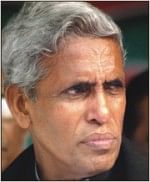 Former premiers Sheikh Hasina and Khaleda Zia should hold talks regularly in the greater interest of the country and people no matter they are in the government or the opposition, Awami League (AL) Presidium member Abdur Razzak has said.
"The culture of boycotting parliament should also be stopped and all political parties need to refrain from practising such a bad culture," he said during an exclusive interview with The Daily Star.
He also said any minister including the prime minister should not have any control on parliament activities so that the speaker and deputy speakers can perform their duties neutrally.
Terming the next parliamentary election a strong step towards "giving democracy a permanent shape", he said there is no alternative to holding the December 18 election.
"No chance should be given to anybody to have any doubt over holding of the polls, which must be held on December 18," the former water resources minister said, adding that the caretaker government and those who are backing it would be held responsible if the parliamentary election is not held on the announced date.
Asked about his reform proposals placed earlier, Razzak said many of the proposals have already been implemented.
On the so-called "minus-two" formula, especially about AL chief Sheikh Hasina, he said there were no words on excluding her--"She is beyond any question."
About his proposal for balancing power between the president and the prime minister, Razzak said, "It is not possible now. No one can do it forcibly. If we realise its necessity, parliament will decide on the matter."
The AL leader also demanded immediate announcement of poll schedule to repel all doubts about the election and create an electoral environment.