13th Asian Art Biennale '08
Budoor Al Riyami and her Grand Prize winning video installation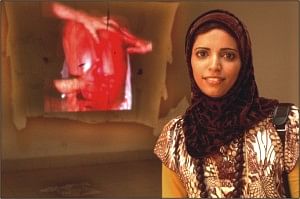 A video installation titled "The Peak of Burning" by Budoor Al Riyami (Oman) is one of the very few artworks employing modern technologies on display at the 13th Asian Art Biennale '08. For her innovative work Riyami has won a Grand Prize.
Incidentally this is her first Grand Prize at an international biennale, though she has participated in many biennales and triennials.
"The Peak of Burning" shows the back of a man projected on the screen made of white T-shirts. As soon as the clip begins, Arabic words in different dimensions appear on the man's back. After a while a hand with a piece of cloth emerges and covers the words with blood. The clip ends with the back of the man all bloody, with a mourning sound effect.
"I have tried to feature the ongoing crisis in a chaotic world. War is going on in many parts of the world, not for any noble cause but for the political and business interests. Humanity, peace and rationality are under constant threat," said Budoor Al Riyami.
On winning the Grand Prize, Riyami said, "It's exhilarating to win the Grand Prize, competing with so many works of high calibre. I heard positive things about this biennale and even met some Bangladeshi artists at other international exhibitions in Sharjah and Dubai. This award will encourage me to do even better."
A graduate from Sultan Qaboos University Muscat, Oman, Riyami also works in other mediums such as painting and sculpture. But currently she prefers video installation to other mediums.
Talking about working with high tech mediums Riyami said, "In the Stone Age man used to draw on stone. Then why shouldn't we use modern technologies when science has developed?"
On her approach to art, Riyami said that she tries to stir the viewers' sensibilities with her works. In her words, "The viewers should be allowed some space so that they can interpret art in their own ways. As an artist I can give them some clues on any particular issue. But, they should decide how to react."
On her upcoming project, Riyami said that she was planning to make a video installation on Dhaka. She said, "This city is full of contrasts, which is quite interesting. I believe I can make a good video installation on Dhaka, which is very different from Muscat."
On the current art scenario in Oman, Riyami informed that there are several art institutes in Oman and a remarkable number of artists including over 60 female artists.