Researchers to find right BNP candidates
Survey to be launched in a day or two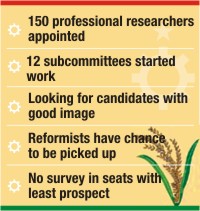 BNP will launch a countrywide survey in a day or two to pick out prospective candidates 'with clean image' for the December 18 parliamentary election.
The party has already appointed 150 professional researchers to do the job.
Besides finding suitable candidates, they will prepare a report on constituency-wise strength of the organisation.
Some BNP leaders however said the survey will get momentum only after the constituency re-demarcation issue is settled at courts.
Primarily, the researchers will confine their work to 150 constituencies. At this time, they will not survey areas like Gopalganj and Rangpur that are traditionally Awami League and Jatiya Party strongholds.
The survey personnel will report to a high profile team appointed by the chairperson to oversee research, analysis and the work on election strategies.
According to party sources, former energy adviser Mahmudur Rahman and journalist Shafik Rehman, among others, are members of this team.
Mahmudur Rahman, however, told The Daily Star last night that he has no idea about the survey.
BNP insiders said Shafik Rehman will play a key role as a member of the team that has already set a number of questions for the respondents.
"We hope the researchers will leave the capital for the constituencies within a day or two," a member of the team told The Daily Star last night.
He also said at least three would be included on the list of prospective contenders against each constituency.
"The survey will look for candidates irrespective of if they are reformists or non-reformists. We need the ones who are popular among the voters and have unblemished character."
Party insiders said the pollsters will draw on different sources including party rank and file, locals and socially aware individuals for information.
A senior BNP leader told The Daily Star, "It's crucially important for us to find good candidates as many of our leaders have already been convicted, accused or on the run."
Meanwhile, 12 sub-committees formed by Chairperson Khaleda Zia have started working to draw up party strategies for the upcoming polls.
Some of the sub-committees will provide legal help for the party's detained leaders, and deal with the foreign diplomats and the media.
Shafik Rehman will work as 'office adviser' to the chairperson and his responsibilities include overseeing research, analysis and coordination between the teams.
Khaleda Zia on Saturday said party leaders have been assigned to draw up the polls strategies. Besides, sub-committees have been formed to prepare comprehensive plans for nation-building after the election.
Former energy adviser Mahmudur Rahman will lead a group of former bureaucrats in drawing up electoral strategies and a manifesto.
Secretary General Khandaker Delwar Hossain will lead a team titled 'think-tank' that will work to set stances on different political issues.
MK Anwar, Nazrul Islam Khan, Abdul Mannan and Rizvi Ahmed are the other members of Delwar's committee.
Justice TH Khan will lead a committee to provide legal assistance for the detained party leaders. His team will work to ensure participation of some leaders who stand accused in corruption cases. Justice Habibul Islam Bhuiyan, Nawsad Zamir, Mir Helal, Kaisar Kamal and Nasir Uddin Asim will help him in the job.
A sub-committee led by standing committee member Tanbir Ahmed Siddiky is working on party registration with the Election Commission. Vice-president MK Anwar, Joint Secretary General Nazrul Islam Khan and chairperson's Adviser Mushfiqur Rahman are the other members of the committee.
Khandaker Delwar will co-ordinate the work of the committee. It was this committee's decision following which BNP yesterday applied to the commission for extension of registration time limit.
A former foreign secretary will lead a team to deal with the foreign diplomats. His team includes Nazrul Islam Khan, former foreign adviser Reaz Rahman, chairperson's Adviser Mushfiqur Rahman and lawyer Nawsad Zamir.