Free flow of information vital for good governance
International Day for Right to Information observed in districts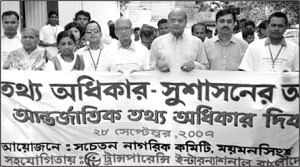 The International Day for Right to Information was observed in Satkhira and Barisal yesterday with a demand to ensure free flow of information for good governance.
Our Satkhira Correspondent reports: Local unit of Sachetan Nagarik Committee of the Transparency International Bangladesh (TIB) chalked out an elaborate programme to mark the day.
A colourful procession was brought out from Satkhira Collectorate ground. Processionists paraded the main streets of the district town. They carried placards with them and chanted slogans in support of their demand.
A discussion on 'Right to Information: Promise of Good Governance' was held at Satkhira Lawyers' Association auditorium with Satkhira Sachetan Nagarik Committee convenor Advocate AKM Shahidullah in the chair.
Discussants said that right to information is a fundamental right of people. They said free flow of information may be a weapon to curb corruption. They hoped the government would take necessary measure to enact law in this regard.
They observed that no reform initiative would be successful if the government fails to enact law to ensure right to information.
They stressed on a campaign to make people aware about their rights. They said it is a must for empowerment of people and good governance. They urged people to build up a movement to establish their right.
Among others, district information officer (DIO) Nurul Huda, Satkhira Lawyers' Association president Advocate Abul Hossain, Henri Sardar, Advocate Abul Kalam Azad and SM Jahanur Rahman of TIB addressed.
Our Barisal Correspondent said: Barisal Sachetan Nagarik Committee formed a human chain in front of Aswani Kumar Hall here in the morning. Later, a discussion was held at the Nagarik Committee office in the afternoon.
The executive committee member of Barisal Sachetan Nagarik Committee, Prof Moazzem Hossain presided the discussion.
Terming right of information as human right, speakers called for abolishing all black laws opposing the right.
They said corruption, irregularities, misuse of power, nepotism and other kinds of vices would be eliminated once for all if the right to information is established.