Column - Rohan Samarajiva
Bangladesh doesn't need a universal-service tax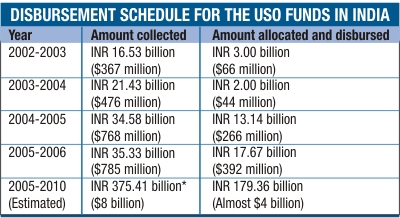 The best news I heard at the Telecom Asia Forum in Bangkok earlier this month was that Bangladesh had not finalized the universal service law being planned for the telecom industry. There is still time to avoid a mistake.
Bangladesh currently has the lowest mobile prices in the world and perhaps the world's highest mobile growth rate. Pretty good, by any measure. A universal service tax can ruin the business model that has given millions of Bangladesh citizens the opportunity to get connected to an electronic network for the first time and to use telecom services at affordable prices. Instead of solving a problem, it will create one.
THE HARM IT WILL DO
Bangladesh, along with India, Pakistan and Sri Lanka, has the lowest mobile prices in the world. The same basket of calls, texts and apportioned connection charges (low-user basket, based on OECD methodology adapted for the region by LIRNEasia) that costs $5.25 in Nepal, costs only $2.46 in Bangladesh.
Yet, the low prices and the resulting low ARPUs [Average Revenues per User] have not bankrupted the mobile operators. They are making enough profits to justify the continued investments that will keep growth going. Low prices and decent profits indicate that a different business model is at work.
How can a budget airline like Ryanair make profits while Alitalia haemorrhages money? Different business model. Ryanair is making money by filling most of the seats on most of its planes most of the time. It does this by offering low prices. The lower the prices, the higher the fill rate. High fill rates combined with radical cost cutting makes the model work.
This is the business model implemented by Bangladesh telecom operators also: low prices that lead to more revenue-yielding minutes on the same network. Any tax the government introduces (whatever name it is called by), increases prices and reduces the efficacy of the model.
By introducing universal service taxes, the government of Bangladesh will harm the business model that has given the country the highest growth rates, the lowest prices and coverage of the entire national territory. It will not help connect more people (the stated objective of all universal service programs) but will slow down the model that has connected more people than any government program ever has.
THE GOOD IT WILL NOT DO
Universal service funds are created to serve those whom the market will not serve. In practical terms, this means that the fund provides subsidy for serving hitherto unserved areas such as rural areas or subsidizes the costs of backbone networks. Bangladesh has almost complete coverage, except for areas that are barred for security reasons, and it has well developed backbone networks. So finding ways to spend the money once collected will be problem.
The BTRC chairman's suggestion in Bangkok that universal service funds may be spent on creating government websites indicates that he understands that there is no need for universal service funds to improve telecom access. From understanding that there are no good uses that can be made of the money to understanding that there is no need to collect the money is a short step. I am confident that the intelligent and articulate Chairman will take that step.
If mobile is connecting people satisfactorily and it makes no sense to impose special taxes on people in order to build government websites, what remains? Broadband? Bangladesh will get broadband when it frees up spectrum, issues licenses and allows innovative business models to be implemented. The licences are being issued and prices will come down. Subsidies are not needed. Taxes to fund subsidies that will make broadband more expensive are not needed.
India has one of the world's largest universal service funds. It, together with Brazil, accounts for most of the unspent universal service taxes in the world. By 2008, India had spent only 31 percent of the collected funds, leaving a total of $3.11 billion unspent. At no point has the Fund succeeded in spending all the money it collects.
Because India charges a fixed 5 percent of revenues and over 6 million new connections are being added every month, the fund keeps growing very rapidly. But the government is experiencing difficulty in spending the money (though the rural-urban gap is being rapidly closed without its help). In the last auction of universal-service subsidies, many operators came in with zero bids.
Sri Lanka does not have a conventional universal service levy. It does not tax individual subscribers. Since 2003, it has been keeping a portion of incoming and outgoing international voice revenues as a universal service fund. Not one cent of this money has been disbursed yet.
The Regulatory Commission has proved incapable of developing an effective disbursement mechanism despite several consultations and announcements. There is little reason to think Bangladesh will be any better at disbursing universal service funds than its neighbours.
Does it make sense to get operators to collect money from their customers, then pay that money to government, then have the government go through its cumbersome procedures to give that money back to the operators?
IN SUM
Bangladesh has the world's lowest telecom prices, highest growth rate and almost total coverage. Imposing universal service taxes on millions of current and future users will not solve any problems. It will create problems by slowing down a business model that is connecting millions at affordable prices.
If the government wants more people connected, it should reduce existing taxes and allow more freedom for operators to price flexibly. The last thing it should do is impose new telecom-specific taxes by whatever name to generate funds that will stagnate in government accounts doing no good for anyone.
Rohan Samarajiva is the former director general of Sri Lanka Telecommunication Regulatory Commission. He is now the executive director of LIRNEasia, a Colombo-based regulatory and policy research outfit that studies South Asia and South East Asia.