11 workers return from KL
Refuse to leave airport without receiving refunds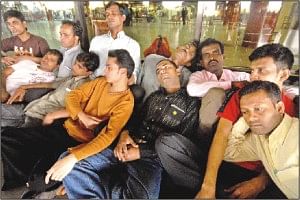 Eleven Bangladeshi workers who went to Malaysia in April for job but faced extreme suffering returned to Dhaka by a flight of Bangladesh Biman Airlines on Tuesday night.
They are Al-Amin Nayan of Rajshahi, Shahidul Islam and Joynal Abedin of Naogaon, Ershad Ali, Mobashwer Hossain and Chan Mia of Tangail, Rajdoot of Munshiganj, Shahabuddin of Chuadanga, Abul Kalam Azad of Comilla, Lokman Hossain of Gazipur and Mannan of Chuadanga.
This is the first batch of 80 workers who were allegedly attacked by the recruiting agency men during their hunger strike on the premises of Bangladesh High Commission in Kuala Lumpur on September 15. The remaining workers will be brought back home in phases by October 1.
Meanwhile, the 11 workers, who were promised that they will be paid Tk 2.3 lakh on their arrival at Zia International Airport (ZIA), decided that they would not leave the airport until they receive the money.
They said they paid Tk 2.3 lakh each to Golden Arrow, the recruiting agency that sent several thousand workers under arrangements with Malaysian outsourcing company PTC Asia-Pacific.
But an official of Golden Arrow told them after their arrival at ZIA that the recruiting agency will pay back only Tk 84,000 it took from each worker before sending them to Malaysia, they added.
"We don't want to talk to Golden Arrow. Expatriates' welfare acting secretary Abdul Matin Chowdhury during his visit to Malaysia assured us of giving back Tk 2.3 lakh. We now want the money," Shahidul Islam, a returnee, told The Daily Star yesterday afternoon at ZIA.
Abdul Matin Chowdhury, however, could not be reached for comment.
In Malaysia, the recruiting agency men forced the workers to live in small 'godowns' and supplied only one meal a day without providing them with employment. To register their protest, a total of 110 workers started a hunger strike on September 10.
"PTC Asia-Pacific sometimes sent us to some factories for work, but did not pay salaries. Rather, they took away our bags and clothes," Shahidul Islam said, adding: "Many of us are now wearing shirts a Malaysian church gave us."
On July 20, a group of workers fled the 'godowns' and went to Bangladesh High Commission. Labour Counsellor Talat Mahmud then assured them that they would be provided with jobs and salaries, he said.
But neither the high commission nor the agency arranged any jobs two months into the assurance, prompting the workers to stage a hunger strike, he added.
"We were also attacked on the high commission premises by the agency men during the hunger strike," said Al-Amin.
A government delegation led by Abdul Matin Chowdhury visited Malaysia from September 18 to 22 to probe the incident. They said 80 workers would receive expenses for returning home, while the local recruiting agency would refund the full money.