Birth of a song: The whole nine yards
In conversation with Krishnokoli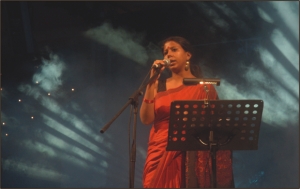 "At an adda, my friends and I made up a song. Giasuddin Selim was there and he liked the sound. Later he told me he wanted to use the song in his upcoming film (Monpura)," says lyricist/composer/singer Kazi Krishnokoli Islam.
"I was inspired by catch phrases inscribed or sewed on indigenous handicrafts, like 'Shukhey theko, bhalo theko' and 'Jao pakhi bolo tarey, shey jeno bholey na morey.' The vision was of a lonesome princess who lives by the sea and writes these words on the door," she adds.
Krishnokoli decided the format of the song, including which parts of the song should be rendered by Chandana Majumder. "Arnob (music director of Monpura) is a brilliant musician and he doesn't interfere in a composer's creative space," Krishnokoli points out. Thus the song, Jao pakhi bolo tarey, was born and is fast catching on.
Krishnokoli composed another song for the soundtrack -- Agey jodi jantamrey bondhu, featuring Momtaz. On working with two virtuoso folk singers, Krishnokoli says, "Both Chandana di and Momtaz have incomparable styles and had they been born in another country, their career-graph would've been different."
"We have yet to learn how to evaluate and appreciate artistes. It's unfortunate that fundraisers for an artiste like Abdur Rahman Bayati started just recently," the musician regrets.
Growing up in Khulna, Krishnokoli was initiated in sargam by her mother. She trained under Shadhon Ghosh (Tagore songs) and Basudeb Biswas (classical music). She enrolled in Chhayanat in 1998 to further train in Rabindra Sangeet but did not complete the course, as she was "afraid that I'd sound a certain way."
Her debut album Shurjey Badhi Basha -- dedicated to her mother -- is a collection of songs that drew inspiration from personal experiences. "I indulge in frustrations often," Krishnokoli smilingly says, "but I also love life."
How does she feel about her popularity on the rise? Krishnokoli's response: "Over-appraisal usually ruins an artiste; it goes straight to the head. It's bad enough that we have more 'stars' than artistes who are true to their crafts." "My fan base mostly consists of kids below 10," she jocularly says. "I often get phone calls from mothers saying that their little girls love my songs. This 4/5 year-old daughter of a friend calls me and sings 'Haat-tey haat-tey ekta nuri.'"
Krishnokoli feels that social awareness is a must. "There is little respect for each other in our society and that too is gradually waning. Take honking for no apparent reason, for instance. I know children are very sensitive to loud, abrasive sounds. Stuck in traffic in a rickshaw with not an inch to move, I see my daughter cover her ears, when the driver of the car behind us -- with the windows rolled up -- honks relentlessly. If rickshaws could fly, believe me, by that time it would've taken off!
"Sexual harassment in public places is another common phenomenon. As if girls/ women who take public transportation or walk on the streets are public property. What's worse is that some women feel that speaking out against sexual harassment, or 'eve-teasing' as it's called here, is 'inappropriate'. I along with some friends are trying to generate public awareness against these social issues," says Krishnokoli.
On her latest projects, the artiste says, "I'm not consciously working with an album in mind, but I have composed some songs. I've done the title song for Mamunur Rashid's upcoming TV serial on Old Dhaka. We used the Dhakaiyya lingo in the song. I think it turned out interesting."
"Thanks to my naiveté, after writing the title song for the serial, Eit Kather Khancha, I singed a contract without realising that it bars me from using it. Now I don't have copyright to my own song," says a disgruntled Krishnokoli.
"I can't come up with lyrics if I have to treat it like 'homework' or a job. Songs just happen; they come to me when they do," says the talented lyricist on her working process.