The splendour of Nazrul's Islamic songs
Yasmin Mushtari on her latest album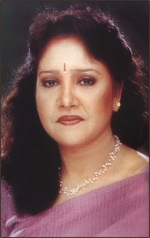 Nazrul Sangeet artiste Yasmin Mushtari is a well-known name in our cultural arena. Her passion for music is reflected in her performances. Recently, the artiste's fourth solo album of Nazrul Sangeet was released by G series. The album titled, Ramzan-er Oi Rozar Sheshey, is a collection of Islamic songs of Nazrul -- a gift of music in the month of Holy Ramadan and the approaching Eid.
Yasmin was honoured with a Citycell-Channel i Music Award for best singer in Nazrul Sangeet category. During an interview with The Daily Star, the artiste talked about her new album and more.
Yasmin's affinity for Nazrul Sangeet developed early as her father, poet Talim Hossain (founder of Nazrul Academy), was an ardent admirer of Kazi Nazrul Islam's works. Coming from a culturally oriented family, Yasmin had the opportunity to meet eminent personalities including the ghazal maestro Mehdi Hassan.
"My taste in music is diverse. I feel that Nazrul's religious songs have the power to hold one's interest. I have performed Islamic songs on several occasions like Shab-e-Qadr, Eid-e-Miladunnabi, Shab-e-Baraat and in Ramadan on several TV channels and at live musical programmes. Many have expressed their eagerness to hear the songs as part of a complete album. Keeping that in mind, I started working on the album a year and a half ago. Fortunately we've managed to release the album prior to Eid," says the artiste.
The album includes some of Yasmin's favourite Islamic songs such as Qalma Shahadat-e achhe Khodar jyoti, Mohammad-er naam jopechhili, Traan koro Maula and others. Yasmin is particularly attached to the last one: "I learnt the song when I was a child, sitting on my father's lap, and he would often sing it to me. I am still moved by this song."
"Actually, most of Nazrul's Islamic songs take me to a different sphere and sometimes I am overcome with emotion. I think it's important to appreciate the passion that induced the lyrics and music. This is immediately communicated with the audience," she says.
The album also includes familiar songs like Tawheed-eri Murshid amaar, Allah te jaar purno imaan kotha shey Musalmaan and the quintessential Eid song for Bengali Muslims, O mon Ramzan-er oi rozar sheshey, also the title of the album.
"The song has become an integral part of our culture, which transcends the narrow boundaries of religion. I think audiences of all religion can enjoy the songs of my album," says Yasmin. Badrul Alam Bakul did the music arrangement for the album.