B'baria BNP Leader Habibullah Murder
11 Jubo League, BCL men chargesheeted
28 AL men dropped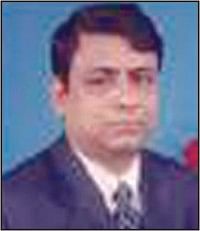 Eleven Jubo League and Chhatra League leaders and activists have been chargesheeted in BNP leader Habibullah murder case.
Twenty-eight others, most of them Awami League leaders and activists, have been dropped from the charge sheet, according to the investigation officer (IO) of the case.
Advocate Md. Habibullah, vice-president of district BNP and secretary of Brahmanbaria Bar Association, was killed on October 27 last year in a bomb attack on a procession brought out in the town welcoming BNP chairperson and the then prime minister Khaleda zia's address to nation.
The 11 chargesheeted accused are Hasan Sarwar, vice-president of Brahmanbaria Chhatra League and VP of Brahmanbaria Government College Students Union; its general secretary Iqbal Hossain; Suman Mia, joint secretary of Juba League; and Chatra League leaders Md. Jakir Hossain, Mamun Mia, Salim Mia, Babul Mia, Muzammel Haque, Zumman Mia and Kanan.
Those dropped from the charge sheet include AL chief and former prime minister Sheikh Hasina's private secretary Obaidul Muktadir alias Rabiul, Brahmanbaria district AL vice-president Helal Uddin, organizing secretary Mahbubul Bari Montu, youth affair secretary Sheikh Md. Anar and former Chhatra League secretary Jahirul Islam Jahir. The IO, CID Sub-inspector Amulla Bhushan Bhumik said their names were dropped from the charge sheet as their involvement was not found in the bomb attack.
On October 28, Habibullah's brother Md. Amanullah filed a case accusing 38 people.
After ten months' investigation, the IO submitted the charge sheet to a court here on Thursday.