Violence erupts after Tarique's injury news
1 dies as gas cylinder of torched vehicle explodes; dozens of vehicles battered, train engine set on fire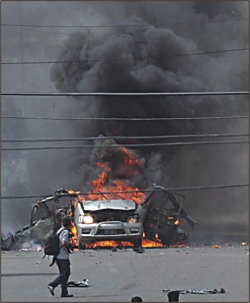 Riots broke out in a vast area of the capital yesterday as pro-BNP students went on a rampage on and around campuses of Dhaka University, Dhaka College and Buet leaving one person dead and eight others injured.
The violence sparked as news spread in the city that ailing BNP Senior Joint Secretary General Tarique Rahman injured himself in custody of law enforcers slipping on a bathroom floor.
The mob also vandalised around 30 vehicles and set two ablaze during the rioting.
In a related late development in Bogra, BNP backed Jatiyatabadi Chhatra Dal (JCD) activists set fire to the engine of a train in Gabtoli area, around 8:00pm. Earlier, they staged demonstrations and blocked roads and railways protesting government's 'disregard' towards Tarique.
Around 2:00pm in the capital, JCD activists torched a microbus on Mirpur Road near Dhaka College, leading to an explosion of the vehicle's CNG cylinder, a splinter from which hit Jahangir Alam, a cloth trader, in the chest.
He was rushed to Dhaka Medical College Hospital (DMCH) where he died, an hour into his admission.
"We walked about 40 yards past the burning microbus, when suddenly we heard a huge bang and instantly Jahangir collapsed on the road groaning in pain," Jahangir's friend Sanaullah, who was accompanying him, told The Daily Star.
Four of the injured were also admitted to DMCH. Three of them were identified as Antara Ahmed Chowdhury, daughter of noted journalist Jaglul Ahmed Chowdhury, their chauffeur Abul Khair, and Sarwar Bari.
They were injured near DU mosque as the demonstrating JCD activists, who were holding a meeting at Oporajeyo Bangla memorial on the campus, vandalised around 10 vehicles and set a taxicab ablaze there.
Antara, a master's final year student of the English department at DU, was later shifted to Holy Family Hospital as she remained unconscious due to a severe head injury.
The violence left the city streets with long traffic jams as police blocked vehicular movement on all roads in and around DU, Dhaka College and Bangladesh University of Engineering and Technology (Buet).
Jail authorities and Tarique's physicians said the detained BNP senior joint secretary general injured his head with swellings and abrasions, slipping on a bathroom floor in Bangabandhu Sheikh Mujib Medical University (BSMMU), where he is being treated for ailments in detention.
DU CAMPUS
Our DU correspondent reported that JCD leaders and activists, who were in a protest rally under Bot Tola on the campus, demanding immediate release of detained BNP Chairperson Khaleda Zia and her son Tarique, started to march towards BSMMU around 12:30pm.
As the protest march led by top JCD leaders including Azizul Bari Helal and Sultan Salauddin Tuku reached the fine arts faculty, some activists started vandalising vehicles while senior leaders tried to stop them in vain.
The protesters set a black taxicab on fire near Rokeya Hall and vandalised 10 vehicles including two pick-up vans of police and Rapid Action Battalion (Rab). Some private cars and auto-rickshaws were also damaged.
The JCD activists also attacked police who put up a barricade on the road in front of the Public Library. The demonstrators pelted police with brickbats, but the law enforcers did not retaliate.
Police took position at all entry points of the university restricting entry of outsiders.
Assistant Commissioner of Ramna Zone Police Hamida Parveen told The Daily Star that they will take action if owners of vandalised and torched vehicles press charges, and if anybody tries to damage public property.
Meanwhile, a rumour was floating around town that Dhaka University will be declared closed for three months with its residential halls vacated.
DU Proctor Prof AK Feroz however told The Daily Star that the university authorities do not have any plan for declaring any unscheduled closure of the university.
He also said they were observing the overall situation very carefully and were in constant communication with police high ups and students.
DHAKA COLLEGE, BUET
Witnesses said around 100 JCD activists from Dhaka College came out on Mirpur Road around 1:40pm and started vandalising vehicles and roadside establishments, forcing shop owners to bring their shutters down.
The rioters damaged over 15 motorised vehicles and set ablaze a microbus that kept burning for over 35 minutes before its CNG cylinder exploded amid several hundred onlookers.
Jahangir, owner of New Rafin Fashion situated in Golden Gate Shopping Centre opposite Dhaka College, was hit in the chest by a splinter from the exploded cylinder when he was walking through the area. He died afterwards.
Jahangir and his friend Sanaulah, owner of Newaz Garments, were on their way to the market from Lalbagh. Being caught in the traffic jam, they got down from a rickshaw at Nilkhet crossing and were walking.
Shamimul Huq, a social science department student of Dhaka College, told The Daily Star, "The microbus was burning for over half an hour. But neither any firefighter arrived, nor any police tried to put out the fire."
"At one stage, the cylinder exploded with a big bang injuring at least three persons," he said adding, "Firefighters came after the explosion, but by that time the vehicle was burnt to ashes."
Syed Hossain, mobilising officer of the Fire Service and Civil Defence, said they reached the spot about 15 minutes after the explosion due to a severe traffic jam on the way. He also alleged that police did not help them to reach the spot on time.
During the rioting, vehicles were barred from entering the road stretching from Science Laboratory to Nilkhet. All markets and other establishments in the area remained closed for several hours while vehicular traffic on Mirpur Road remained suspended for over three hours.
Meanwhile, JCD activists of Buet also damaged about five vehicles and blocked roads in the area for about half an hour from 2:00pm.
JCD was still demonstrating on DU campus around 8:00pm demanding immediate unconditional release of Khaleda and Tarique. Its activists brought out a protest march and held a brief rally in front of DU Central Library.
JCD's DU Unit General Secretary Saiful Islam Feroz told The Daily Star that they will forge a countrywide tough movement soon if their demands go unheeded. JCD will stage demonstrations on DU campus today around 12:00pm, Feroz added.
CASES FILED
Deceased Jahangir Alam's brother Alamgir Hossain filed a case with New Market police station last night accusing 30 to 40 unknown people of killing his brother.
Meanwhile, Gopal Kumar Das, chauffeur and owner of the taxicab that was torched on DU campus, filed another case with Shahbagh police station against 200 to 250 JCD activists for torching his vehicle in front of Rokeya Hall.