Concert for Abdur Rahman Boyati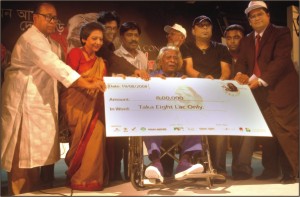 Abdur Rahman Boyati is one of the most prolific exponents of Baul songs. Throughout his life, Rahman Boyati has performed in over 40 countries and led cultural delegations to many international programmes. He is the recipient of six national awards including one Presidency Award.
Rahman Boyati is currently suffering from a neurological disorder, which affects his sight and movement. At present he is admitted at the Japan Bangladesh Friendship Hospital in Dhanmondi.
'Top of Mind', 'AV Graph' and 'Green Planet' jointly arranged a fundraiser concert at the Winter Garden, Hotel Sheraton on August 19 for the ailing bard. Popular artistes and bands including James, Arnob, Krishnokoli, Maqsood O Dhaka and LRB performed at the concert.
Khrishnokoli opened the gig and rendered only one song – Jao pakhi bolo tarey from the soundtrack of the yet to be released feature film Monpura.
Arnob also rendered a song from the soundtrack. The song, Amar shonar moina pakhi, is a popular folk song and has been used in the film with contemporary arrangement by Arnob himself. "Let's have only folk songs tonight," said Arnob and then rendered two more songs including Shona diya bandhaiyasi ghar and Aketo barir mosha.
Next on the stage was the band Maqsood O Dhaka. Maqsood, who once generated much interest in Baul songs among contemporary urban listeners, rendered a number of popular songs including Rahman Boyati's Mon amar dehoghori. When Maqsood was with the band Feedback, he and Rahman Boyati composed a contemporary version of the song. Maqsood's other renditions at the show were Gurur naam dhorey, Bangladesh and Melaye jairey.
The organisers arranged a special moment for the audience: Rahman Boyati made an appearance. Despite his ailing health, Rahman Boyati came on the stage with the help of a medical team including his doctor. The bard hoped to be back on the stage soon. The organisers handed a cheque worth Tk eight lakh. Incepta Pharmaceuticals Ltd. added Tk. two lakh to that amount, making the total Tk ten lakh. Geeteara Safia Chowdhury; Faridur Reza Sagor, managing director of Impress Telefilm Ltd; Maqsood, Ayub Bachchu and others were present on the stage.
LRB took the stage next with Ayub Bachchu on the lead guitar. They started with an instrumental. After that LRB rendered their old hits including Shudhu ki aamar bhul, Ghum bhanga shohorey and Meye.
James was the last performer of the night. He rendered three songs including Maa and Deewana mastana.
ACI Ltd, Warid Telecom, Millennium Development Goal 3: Empowering Women (Nari O Shishu Bishayak Mantranalay), RAK and Macomm were the sponsors of the programme. Media partners of the concert were Channel i, Ananda Alo and Radio Today. Hasan Abidur Reza Jewel was the MC of the programme.