"Megher Koley Rode" Generating awareness on HIV/AIDS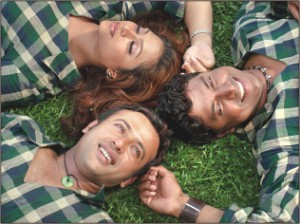 In her latest film, Megher Koley Rode, director Nargis Akter has followed the "formula" of "mainstream cinema" and has dealt with a contemporary global issue. Done in conventional "Dhaliwood style", the film features dances, playbacks and fights in a decent manner, and addresses the wrong perceptions of HIV/AIDS. For the most part, the cast and crew of the film includes are also from the mainstream movie industry.
Megher Koley Rode is full of drama and action. USP of the film is proportionate acting by mainstream actors such as Riaz, Poppy, Ahmed Sharif, Diti and Kabori. Even the debutant Tony Dias performed well. Director Nargis Akter deserves plaudits for managing her actors to perform realistically.
Nargis Akter's story and screenplay, especially the dialogue diction, have been aptly done. Two Bangladeshi students -- Rodela (Poppy) and Nijhum (Tony Dias) -- studying at a Malaysian University face a problem regarding accommodation, as the Malaysians deny to rent apartments/ houses to an unmarried couple.
Dramatically they meet a Bangladeshi expatriate (Diti), who is a psychiatrist by profession. She solves the problem. A triangular love story is introduced when Uday (Riaz), after completing his Bar at Law degree from UK, comes to meet his best friend Nijhum in Malaysia.
Riaz in the character of a flirtatious, fun loving, young chap has performed spontaneously throughout the cinema.
Poppy's performance in the multidimensional character of Rodela is worth mentioning. Perhaps the audience has never seen Poppy perform with such conviction, though she is a popular film actor and has won national awards in acting. Her portrayal of aesthetic sentiments as per the requirements of actions deserves plaudit.
Tony Dias also performed well in the role of an unsure, insecure individual who always goes by his parents' decisions and cannot even express his love for Rodela.
Realising Nijhum's deep love for Rodela, Uday decides to go back to London, though this is for the first time he has been in true love.
The triangular love story has been visualised in the intriguing locations of Malaysia.
A new drama begins when Nijhum and Rodela decide to go back to Bangladesh and marry. On the wedding night when the bride is waiting for the groom, he does not come suspecting Rodela is HIV positive, as his relative seeing the picture of Rodela's parents identifies them as aids victims who died when Rodela was born.
Nijhum's parents create pressure on their son to divorce Rodela on the following day of their wedding. The incident leads the cinema to a lengthy court scene, which sometimes appeared monotonous.
For a change Ahmed Sharif, who usually plays negative characters in mainstream films, is seen delivering a credible performance. As per the formula, Uday comes from London to defend Rodela.
Playing a gynaecologist, seasoned actor Kabori proves to the court that Rodela is not a HIV positive. If the mother is properly treated under the supervision of an expert doctor, a newborn does not necessarily carry the virus.
However, the film has a few flaws. Actions are not properly portrayed in many scenes such as the scene featuring Khurshiduzzaman Utpal (playing Riaz's maternal uncle in the film), meets his ex-fiancé Diti after 12 years.
Megher Koley Rode is running for the second consecutive week at Star Cineplex.