Write-up - Aftab Mahmud Khurshid
Brand banks: It's time to get innovative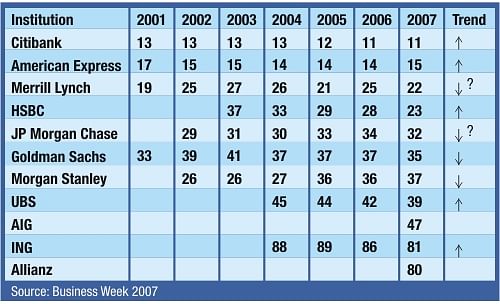 Branding has certainly become the buzzword in the financial arena in 2008! A good brand is like gold in the vault for the finance industry. A quantum leap is occurring in the way brands influence financial services recently.
In the UK and US markets, the increasing consumer interest in the financial decision-making process is forcing companies to invest in brand building exercises with consumers, which I think is reflected in Bangladesh as well. Trust Bank started its re-branding initiatives in 2006, later AB Bank changed its logo, followed by City Bank.
However, changing the logo alone, is not branding. There has to be a shift in attitude, change in culture and activities to go along with the change in logo. It is directly related to the overall business strategy of the bank.
Renowned brand coach Ted Matthews said; a brand is what people think of you. ™. "Re-branding is really not that much to do with the look, it's about communicating what you are doing and why you are doing it to your various markets."
A brand represents the sum of all experiences over time between an individual and a company, product, or service. A brand represents an expectation, a level of quality and it is a measure of trust. It is more than a logo. In our country branding is widely misunderstood to be advertising or public relations (PR), basically, these are tools or means of communication of brand building.
Branding is transforming the ways of financial services. Interbrand conducted a survey designed to observe the trends. They asked 24 financial institutions around the world how their principal customer brand is used and managed, both externally and internally.
The answers reinforce the increasingly held view that the brand is fast becoming the major competitive asset for financial service companies. More importantly, the answers also reveal that the role of the brand within the management of business is changing dramatically.
Although some long-established banks and insurance companies still see their brand merely as an aid to awareness and recognition, the new entrants and are radically transforming themselves by placing the brand at the center of their corporate strategy.
This means they are aligning their communications, operations and systems to their brand mission and values. They are working to make all of their employees effective ambassadors of the brand.
Kenneth Chermault, vice-chairman of American Express, once said in an interview, "While there are many directions a financial services company can go today, we will only do that which supports the growth of our brand."
In other industries it is well accepted that putting the brand at the center of corporate strategy is critical to success: BMW, Coca Cola and Tesco are good examples. Now we can see that some financial services companies now take that stance.
Branding is a relatively new concept for the financial industry. They are slowly realising that they need to manage their strategic assets too. Many financial service firms have historically perceived brand management as being relevant to consumer goods only.
To create a truly powerful brand, you need to establish a sense of belonging, friendship, and dependability between the product and the customers; which really make sense in every aspect. Strong brands command premium prices and reduce customer acquisition costs.
The benefits of strong brands affect employees as well. People are naturally attracted to firms with strong brands. This often translates to a better pool of talent applying for positions and greater employee retention over time.
It is noteworthy that few financial service firms commit to actively and consistently managing their brands. The results of the annual Interbrand survey in 2002 showed that only six (Citibank, Morgan Stanley, Merrill Lynch, JP Morgan, HSBC and Goldman Sachs) out of 75 of the most valuable global brands are bank brands. Now the scenario is more interesting, more banks and financial institutions have been added to the list.
According to the brand rankings of major financial institutions based on the Interbrand data published annually by Business Week 2007, Citi was top ranked.
Dan Roselli, brand and advertising executive for Bank of America referred to the Coca-Cola trademark and once said, "Its brand is worth more than all the rest of the company's assets, including the secret formula. If a brand's promise is appealing enough, it can overcome competitive disadvantages, including price, because consumer appeal is based on benefits as well as price."
A powerful brand is differentiated and relevant to its target audience, a service brand can communicate its promise through advertising, but it must be built through action. Identifying and articulating a brand vision for any Bank is not that easy because employees have to live it in front of the customer every day. Because the company's employees are, in a sense, "always on the stage" they are the face of the bank.
If the bank does not keep its promises, it does not matter how effective the communication is. A brand has impacts, whether a bank manages it or not.
Now the 'experience' economy has arrived. A brand experiences the feelings or expectations of customers that are evoked during every interaction at every touch point with people, products, service, process, technology and branches that are like 'shop" or 'stores'. That is why banks might use its branches to create the right branded customer experience in future.
"Trying to convince a skeptical CEO about the value of branding is like trying to push water up the hill," explained Roselli. "Go to work at a company where the CEO already understands."
Financial service firms can transform this challenge into an opportunity to tailor a more comprehensive plan for growth. So, it is time to get banks more innovative. Start branding without breaking your bank.
The writer is a brand strategist for a bank and the recipient of the 2007 Global Brand Leadership Award in Asia Brand Congress. He can be reached at [email protected].