Try war criminals, ban Jamaat's fake FF body
Assault of freedom fighter protested in Khagrachhari, Sirajganj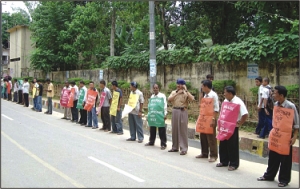 Freedom fighters in Khagrachhari and Sirajganj, joined by people and professionals, yesterday protested assault on Freedom Fighter Sheikh Mohammad Ali Aman in the capital on July 11 by Jamaat-Shibir activists and demanded punishment of the culprits and trial of war criminals.
In Sirajganj, Ekattarer Ghatok Dalal Nirmul Committee and Muktijoddha Dabi Bastobayon Committee held a rally and formed a human chain at Chowrasta intersection in the town protesting to the assault of the freedom fighter. They also demanded a ban on the so-called Jatia Muktijoddha Parishad, floated by Jamaat, reports our correspondent.
Hundreds of people including freedom fighters and activists of different political parties and socio-cultural organisations joined the programmes.
Speakers at the rally said enemies of independent have raised their ugly heads again and trying to destroy the spirit of the Liberation War.
They called upon all pro-liberation forces to launch a greater movement for trail of war criminals to establish the values and spirit for which people fought the war and earned independence.
They also criticised the government for not arresting the Jamaa-Shibir cadres who assaulted the freedom fighter, saying assault of a freedom fighter is assault on genuine freedom fighters and freedom-loving people of the country.
Among others, secretary of Ekattarer Ghatok Dalal Nirmul Committee Kazi Mukul, wounded freedom fighter and journalist Aminul Islam Chowdhuri, joint convener of Sirajganj Swartho Rakkha Sangramme Committee Dr. Zahurul Haque Raza and cultural activist Asad Uddin Pablu addressed the rally.
The speakers also called upon all freedom fighters to launch a tougher movement to protect and uphold the values of Liberation War realising the demand for trial of war criminals.
Our Khagrachhari Correspondent repots:
Hundreds of people including political activists, teachers, students, lawyers, cultural activists and newsmen under the banner of Khagrachhari Muktijuddha Sangsad staged a demonstration in the hill town and demanded arrest of Jamaat-Shibir activists who assaulted Freedom Fighter Sheikh Mohammad Ali Aman.
Demanding a ban on the Jamaat backed so-called freedom fighters' body, speakers at the rally said Jamaat floated the body to malign genuine freedom fighters and mislead the nation.
Khagrachhari district Awami League president Jatindra Lal Tripura, secretary Zahidul Alam, vice-president Rono Bikrom Tripura, cultural personality and Khagrachhari district Muktijuddha Commander Mong Sathowai Chowdhury, among others, addressed the rally.