Subrata's nightmarish visions of twisted tubes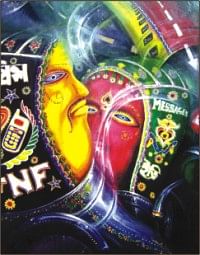 Subrata Das, whose exhibition of acrylic on canvas paintings is being held at the Alliance Francaise gallery, presents mostly his own paintbrushes. These objects are exaggerated, elongated and overwhelming. The brushes are not something beautiful` or soothing but formidable and bewildering.
This does not mean that Subrata's paintings are ugly or frightening. In some of the paintings the brushes appear to gently sway and curl although they are monstrous and have impossible, frightening features of giants, ghosts and spirits of the wild, with disturbing representations of hands and feet. At times the brushes and paint tubes have ugly teeth and garish rickshaw decorations on them, in the form of popular plastic cut-out decorations, seen in the shapes of naively created parrots, flowers and leaves.
The huge, oversized animated paintbrushes, swirl, heave and coil as in some war with outer space objects. Subrata says that the form of an object indicates its nature and characteristics. "When an object is presented in a novel way, stripping it of its distinctive features, it becomes a third perception. I have endeavoured to infuse life into inanimate metallic structures of the brush through transformed, imaginative images." says Subrata. In the paintings the artist has mixed and merged images of man and nature, trying to usher in his concept of life and passage of time.
While he portrays nature, with its realistic beauty and distorted ugliness, Subrata has also tried to depict the socio-economic situations around him, where man feels limited and stifled. He is weary of the daily routines of life and is enmeshed in nightmares of twisted existence around him. The hunger, need and loneliness found among everyday people around us are presented in a surrealistic way, so that the viewer is awed and nonplussed. Symbols abound in the paintings, making the viewers wonder with awe before the gigantic representations of paintbrushes and tubes.
Subrata has taken part in more than ten joint exhibitions and four workshops. He has won two awards including the Honourable Mention Award of the 16th Young Artists' Art Exhibition, Bangladesh Shilpakala Academy, 2008.
The exhibit ends on July 6.