'Election under emergency difficult, not impossible'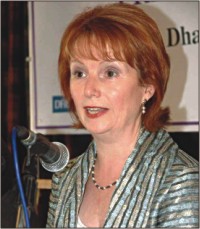 Visiting UK minister Hazel Blears yesterday said holding a free and fair election under the state of emergency is very difficult but not impossible.
She said the caretaker government should gradually lift the emergency before the general election, but at the same time it must consider public safety as well.
The British secretary of state for communities and local government, Blears made the observations at a press conference at the residence of British high commissioner in Dhaka.
Replying to a query, she said, "I don't think a free and fair election is impossible if there's a state of emergency."
Facing a volley of questions from the reporters, she said, "The government is very keen to lift the state of emergency. But they also need to provide safety and security to the people. I think that's a very reasonable balance."
Everything however would depend on the interim administration's decisions in light of the ground realities, she noted.
Blears, who earlier wrapped up her two-day visit, said, "It is important to press the government to lift the emergency, but I would not say that a free and fair election is simply ruled out because you have got a state of emergency."
She said both the chief adviser and the adviser for home affairs have assured her that the national election would be held by the year-end. "I believe it's a genuine commitment towards transition to a democratic government."
A member of parliament (MP) from Labour, she observed that there have to be an atmosphere appropriate for all to campaign and cast their votes fearlessly.
She said her country encourages all sides here to engage constructively in the process of transition to democracy this year.
On human rights, she said it is very important that people are treated in accordance with the rule of law and their human rights are respected.
Our correspondent from Sylhet adds: The British minister expressed hope for a stable democracy in Bangladesh in near future.
She was addressing a gathering of Bangladeshi expatriates in the UK and local elites at the Sylhet Circuit House yesterday morning.
She said, "The Bangladeshi community in the UK has long been playing a laudable role in the British society. We are proud of their contribution in economy, industries and various other sectors."
These people, she added, are also making great contributions to making Bangladesh a prosperous country.
British High Commissioner in Dhaka Stephan Evans and other high officials accompanied Blears in her visit to Sylhet.