Police Atrocities On Du Female Hall
Punishment to JCD cadres, other culprits demanded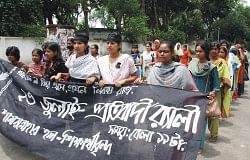 Different student organisations yesterday staged demonstrations on the Dhaka University (DU) campus demanding exemplary punishment to the Jatiyatabadi Chhatra Dal (JCD) cadres and also those involved in the police atrocities on female students at Shamsunnahar Hall on July 23 in 2002.
To mark the 6th anniversary of the incident, popularly known as Shamsunnahar Hall Tragedy Day, active student organisations of the university organised protest processions, rallies, photo exhibitions and cultural programmes on the campus throughout the day.
On that day in 2002, the police broke open the hall gate and entered it at the dead of night, dragged the female students from their beds, abused verbally and assaulted them, leaving more than 50 students injured.
The police swooped on them in presence of the hall administration as they were protesting illegal stay of some leaders of JCD, student wing of BNP.
Female students of Shamsunnahar Hall yesterday morning took out a protest procession from the hall gate that paraded different streets on the campus with different types of festoons and posters in their hands protesting the police attack.
Bangladesh Chhatra League (BCL), student wing of Awami League, in the evening lit candles at the Central Shaheed Minar. It also brought out a protest procession with candles in their hands that also paraded different streets on the campus.
Bangladesh Chhatra Union (BCU), a left-leaning student organisation, did wall paintings on the Shamsunnahar Hall wall protesting the incident. BCU also organised a cultural programme protesting the police atrocities in front of hall gate in the evening.
Bangladesh Chhatra Federation (BCF) and Samajtantrik Chhatra Front (SCF), two left-leaning student organisations, brought out separate protest processions on the campus. SCF organised a protest rally where front leaders demanded a proper investigation into the incident, trial of those involved in the incident and BCF, on the other hand, organised photo exhibitions of the police atrocities at three busy points on the campus.