Bangladeshi folk music programme in Japan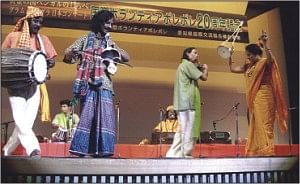 Invited by the "International Volunteer Pore Pore" of Aichi in Japan, cultural organisation 'The Gram-Bangla Folk Musical Group' has made a month-long tour in Japan recently, performing at different cities, says a press release.
The performances by the group where highly appreciated by the Japanese audience and received coverage in the local newspapers including the esteemed Asahi Shimbun. To mark the occasion, the group has released a CD featuring 12 folk songs performed by them in Japan.
The group was formed in 2004 by Eiku Hussain, a Japanese national living in Bangladesh since 1971. The group has performed at several cultural programmes including the Ekushey Boi Mela at Bangla Academy.