Government subsidy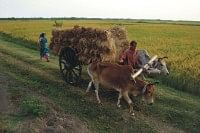 It is baffling to castigate donor agencies for closure of our jute, sugar and steel mills of the country. The Adviser Finance had to swear a few months ago in a public seminar of his receiving no such advice from donor agencies. The distinguished academicians (especially Russian educated) continued their anger on those agencies without looking into ground realities in the industrial arena owned by the government. Mismanagement, corruption, nepotism went unchecked by the successive governments. All the officials engaged in those producing units and their controlling head offices had no accountability. Industrial management experts having both academic qualifications and practical experience had no place rather only politically and bureaucratically favoured people got the upper hand which led to closure of mills culminating in heavy losses.
Although all successive governments very cunningly avoided applying the brake but they never also cared to know which side one's bread was buttered on. The overall situation of state owned enterprises came to such a stage that even the privatisation commission was possibly out of their breath. But a distinction if made with the private sectors shall reveal that they are not only expanding producing units continuously creating huge employment opportunities but also regularly paying taxes to the government in conformity with laws of the country.
The government subsidy cannot be continued to the state owned enterprises continuously jeopardizing important development works and therefore SOEs should be advised to meet their requirement by generating own revenue. Only our agriculture sector need all out government support, sincerely and continuously to grow more crops. The country during the last 38 years has produced enough experts and technocrats to run the railways, airlines, IWTA, ports, tea gardens, heavy industries, banks, insurance etc. and therefore, right persons must be recruited to run those organisations and not the officers of the administration wing of the government who perfunctorily acted to make their own fortune and unfortunately created all the mess.
So, the ACC should immediately get to the bottom of all project functions of sector corporations, like they started with Biman, Titas Gas, ports etc. with a view to bringing all evildoers to book. After all, palatial high rise residential buildings in Gulshan, Banani, Baridhara and Uttara were not built with only pay packages from the exchequer.