Torched Hendrix guitar to be sold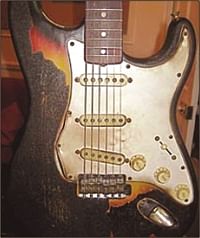 The guitar torched by late rock legend Jimi Hendrix during a live performance in London is expected to fetch £500,000 at auction in September.
The 1965 Fender Stratocaster was doused with lighter fuel and set on fire by Hendrix at the London Astoria in 1967.
It was the first time Hendrix had set his guitar on fire. He later repeated the stunt at the Monterey Pop Festival.
Hendrix was taken to hospital following the Astoria stunt, where he was treated for minor burns.
The guitar was recovered by the rock star's press officer and close friend, Tony Garland, who stored it at his family home, where it was rediscovered last year.
"When Hendrix set this guitar alight it marked a watershed in live performance," said Ted Owen, director of acquisitions at the auction house, The Fame Bureau, which is holding the sale on 4 September.
"He raised the bar of what could be expected and paved the way for a series of imitations and pastiche that exist to this day."
Another guitar set alight during a concert in Miami in 1968 failed to sell at auction in 2002.
That guitar was previously assumed to be the same guitar that was set alight at the London concert, but experts now favour Garland's guitar.
The guitar is the subject of a 21-page feature in this month's Guitar & Bass magazine. Its distinctive face can be seen in film footage of Hendrix at the Marquee club taken two days before the Astoria concert.
Also included in the sale are a Led Zeppelin drumkit, Doors star Jim Morrison's last notebook of poems and a song-sheet for USA For Africa's We Are The World - signed by Stevie Wonder, Bob Dylan and Michael Jackson.
Source: BBC