Nobel committee chief calls for global efforts to cut poverty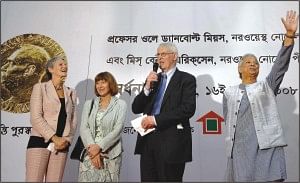 Chairman of the Norwegian Nobel Committee Ole Danbolt Mjøs yesterday called for a concerted global effort to eradicate poverty as a step to ensure peace for all.
"Together we can make the world a better place for living," Prof Mjøs said yesterday during a reception accorded to him and Bente Erichsen, director of the Nobel Peace Centre, at Bangladesh-China Friendship Conference Centre in the city.
Mjøs and Erichsen, who flew in Bangladesh Tuesday on a six-day visit in connection with an exhibition on Nobel Peace Prize in Dhaka, paid a courtesy call on Chief Adviser Fakhruddin Ahmed earlier in the day.
"We've to go to the root what causes war. We've to fight poverty; we've to fight climate change," Ole Danbolt said during his short address at the programme organised by Grameen Bank.
Pointing out that Bangladesh is facing the big challenge of poverty with "climate change on top of it", he said, "The world has to do something in solidarity with you, in solidarity with all countries. Together, we can make it."
Quoting Nobel laureate Prof Yunus as saying that the burning issue is now eradicating poverty, he said, "We can do it in Bangladesh, we can do it in the world."
"Some people say this is impossible. But this is possible. We have to do it together. If we're united, we can do it," Prof Mjøs affirmed.
Asking the people of Bangladesh to be confident about their potential, he said, "You can also show the world a peacemaker."
On awarding Prof Muhammad Yunus the Peace Prize, the chairman of the Nobel Committee said, "I don't think we could have made a better choice than Dr Yunus and Grameen Bank as laureates."
"I salute Bangladesh, I salute the people, I salute Grameen Bank, I salute Dr Yunus, my good friend," he said.
Speaking on the occasion, Prof Yunus thanked the peace committee for awarding the Grameen Bank in recognition of its microcredit programme.
"It is time and occasion to rediscover ourselves, to create ourselves with all the ingredients we have, as Prof Mjøs said," he said.
Meantime, director of the Nobel Peace Centre said the centre is very happy at the reproduction of the exhibition on Nobel Peace Prize in Bangladesh.
Prof Yunus opened the exhibition on him and the Grameen Bank at the Centre in Oslo in 2006.
The chief adviser will inaugurate the exhibition titled 'Jobra to Oslo' at Grameen Bank head office in the city today.
Mjøs and Erichsen will address students of different universities and colleges on the Nobel Prize and Prof Yunus at the BCFCC in the evening.
Norwegian Ambassador to Bangladesh Ingebjørg Støfring also spoke on the occasion.
A number of former advisers, members of the civil society and officials of foreign embassies attended the programme.