<i>Fishery in Teesta canals creates hopes for the poor</i>
Gen Moeen's dream comes true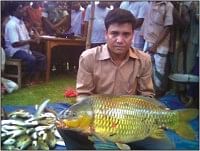 Huts of poor families along Teesta irrigation canals in monga prone Jaldhaka are now lively with new hopes.
They are now getting share of the profit from fishes they produced in the canals, thanks to the initiative by army chief Gen Moeen U Ahmed.
The Teesta project, after completion of its first phase, now has a 33.57 km main canal, two main branch canals stretching 74.85 kms and 215.24 kms of secondary canals. Besides, it has many tertiary canals.
Gen Moeen during a visit to remote Chaoradangi village in Jaldhaka adjoining Teesta main canal on November 27 last year realised the immense possibility to contain monga by creating fishery projects in the canals by involving the poor.
He initiated a plan and released fish fry at Chaoradangi canal. At a meeting of dignitaries and locals there, he also mentioned possibility of duck rearing in the canals and creating forestry on their banks. These may help remove monga, he told the meeting.
Moeen's call created enthusiasm. The district administration, fishery, live stock and forest departments came forward with plans. The army coordinated.
Fishes was cultivated in about 101 km water bodies of the main canal and branch canals-- 75 kms in Nilphamari, 13 kms in Rangpur and 13.5 kms in Dinajpur. A total 3,094 beneficiaries from the extreme poor were engaged in 17 groups to maintain the projects.
The army funded most of the Tk 18 lac to release fish fry. Fishes like sor puty, rui, katla, mrigal, grasscurp which do not harm canals wee cultivated. "An excellent success was achieved within six months'' said MI Golder, Nilphamari district fishery officer. "
GOC of 66 Division Maj Gen Sayeed Fatemi Ahmed Rumee inaugurated fish netting in Teesta main canal at Horish Chandra Pat area in Jaldhaka on 28 May.
Seventy-five per cent of the money from sale of the fishes is distributed among poor stakeholders and the rest is used to buy fish fry.
Till July 8, about 35 tonnes of fish worth about Tk 38 lakh were netted from the canals. Fishes less than 500gm weight were released again in the canals to become bigger.
Local farmers said the fishery project did not harm irrigation to fields in the last Boro reason.
Brigade Commander of 222 Brigade, Brig Gen Abu Belal Muhammad Shafiul Haque inaugurated distribution of the profit money among the stakeholders on June 30, which will continue through out the current month, project sources said.