Rab seizes 24 tonnes of mangoes mixed with poisonous chemicals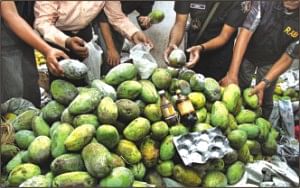 A mobile court accompanied by Rab-4 yesterday seized over 24 tonnes of mangoes worth about Tk 12 lakh and held two traders for spraying poisonous chemicals onto those in Mirpur in the capital.
Magistrate AHM Anwar Pasha of the mobile court also fined mango traders Abdul Halim Bepari and Yaseen Hossain of Baghbari, Gabtoli Tk 1 lakh. They were sent to the jail with three-month imprisonment for failure to pay the fine.
Rapid Action Battalion-4 (Rab) sources said they conducted the raid at Baghbari from 11:45am to 3:00pm and found the traders using calcium carbide to ripen green mangoes.
Captain Mohammad Moshiul Alam who led the Rab team told The Daily Star, "The chemical-sprayed mangoes, if eaten, may cause incurable diseases."
In another drive, Rab-4 seized 793 cans of beer and 23 bottles of foreign liquor from DOHS area in Kafrul.
The Rab-4 personnel also arrested four people -- Mohammad Milan, Mohamad Maola, Mohammad Hannan and Ruhul Amin -- in this connection.
Meanwhile, detectives Tuesday night seized 17,700 cartons of adulterated and duplicate cigarettes from South Rajarbagh in Sabujbagh.
Detective Branch officials claim worth of the cigarettes would be about Tk 1.5 crore.