Date-expired blood again on sale at blood banks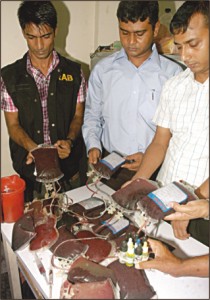 A raid by a mobile court of Rapid Action Battalion (Rab) in city's Mohakhali area yesterday found two private blood banks not complying with regulations and selling date expired blood, which are also untested.
The dangerous revelation came as a Rab mobile court raided two blood banks, ironically just 100 yards from the Directorate General of Health Services (DGHS) office, which is supposed to regulate blood banks, and found them to be operating without any government permission or proper technicians.
Around 20 packets of date expired blood were recovered from Dhaka Clinic and Pathology and City Lab and Blood Bank. The bags of blood had no expiry date marked on them and had not been tested for diseases.
The drive was led by Rab-1 deputy director Major Saiful Islam Chowdhury and assisted by Assistant Director of DGHS Dr Momtazuddin Bhuiyan and Magistrate AHM Anwar Pasha. They fined both businesses Tk 50,000 each.
Magistrate Pasha said that the penalty should have been higher He added that use of date expired blood can cause anaphylactic shock in a patient, that could be fatal.
Major Saiful Islam Chowdhury said," We decided to launch the drive after receiving information that several hundred such banks operate across the country."
He said that a similar drive was to be conducted on a clinic at Bangla Motor area but the owners had kept their premises shut on the day.
According to DGHS information, only 10 blood banks -- nine in the city and one outside the capital hold permits to operate as blood banks. In addition, all government hospitals act as blood banks.
The private blood banks in the city with valid permits are Lab Aid, Quantum Foundation, Kidney Foundation, United Hospital, Apollo Hospital, City Hospital, Green View Hospital, Square Hospital and Ad-din Hospital.
A blood bank is required to make a deposit of Tk 1 lakh to get a government licence, they also need to have at least one expert physician and two technicians in addition to other facilities to obtain the licence.
Asked why the DGHS has not take any punitive action against blood banks raided, Momtazuddin Bhuiyan said the mobile court is empowered to check and monitor whether the blood banks hold permits to run their business.
"It is the responsibility of the administration to take actions against such illegal operators," he said.