"Tribunal for War Criminals"
A much needed documentary by Mithun Ahmed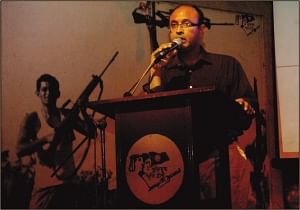 The official announcement of making a documentary on genocide and war crimes during the Liberation War was held at the Liberation War Museum on June 24. The documentary titled Tribunal for War Criminals will be directed by Mithun Ahmed. Selected footages that will be included in the documentary were screened at the programme after the official announcement.
New York based Mithun Ahmed, who was a theatre activist of Dhaka Padatik and worked with S.M. Solaiman, informed that the documentary will be most likely 50-minute long. The project is expected to be completed by December this year.
The documentary will feature interviews of freedom fighters and intellectuals; footages of the historic "Gono Adalot" movement during the early '90s led by Shaheed Janani Jahanara Imam; footages of the Liberation War and a rare interview of one the masterminds, Ashrafuzzaman, who carried out mass slaughter during the Liberation War.
Mithun Ahmed said, "A few years back it was Shahriar Kabir, who first informed me that a war criminal was living in New York. I was able to confirm that the war criminal's name is Ashrafuzzaman. I had to use a hidden camera to interview him."
A similar programme, making the official announcement of the film, was held in New York a few months back, where sector commanders were present.
Deputy Chief of the Liberation Forces and Convener of the Sector Commanders' Forum, Air Vice Marshal (retd) A.K. Khandakar, Bir Uttam officially announced the introduction of the documentary. In his speech Khandakar said, "I appreciate Mithun's initiative. I watched the selected footages to be used in the documentary a few months back in New York. I suggested that Mithun edit some of the footages."
Theatre personality Nasiruddin Yousuff introduced Mithun to the audience. He said, "Mithun Ahmed has been working towards this goal since the 'Gono Adalat' movement. I hope that Mithun will fulfil people's longing for justice through his documentary."
Journalist and researcher Shahriar Kabir emphasised the lack of visual documentation of war crimes during 1971. He said, "If anyone browses the Internet, in particular YouTube.com, then s/he will find a lot of documentaries on Darfur or Bosnia genocide. But the number of documentaries on genocide and war crimes during the Liberation War are few and far between."
Shahriar Kabir also added that visual documentation of war crimes is more effective for the tribunal and at the different international human rights agencies."
Among others, artists Quayyum Chowdhury and Rafiqun Nabi, human rights activist Sultana Kamal, Mafidul Haq and Jaglul Ahmed Chowdhury were present at the programme.