Raise awareness to eliminate TB
Experts tell Brac Media Award giving ceremony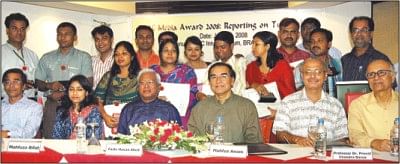 Health and media experts yesterday called for more cooperation between the two sectors for raising mass awareness to eliminate tuberculosis (TB), a deadly disease killing millions of people across the world.
They also said close cooperation between media and NGOs can contribute significantly to the establishment and development of democracy in the country.
Their remarks came at the awarding ceremony of Brac Media Award for good reporting on tuberculosis at the Brac Centre Inn in the capital.
Twenty journalists were awarded for their reporting on TB.
"Journalists have a very important responsibility in the society. We want their constructive criticisms. We shall surely accept them," said Brac Chairperson Fazle Hasan Abed who chaired the function.
"We, who work in NGOs, want to hear only positive things about us. But I think media should play the role of monitors. You should report if there are lapses in our activities," he added.
According to a Brac publication, three lakh people are attacked with TB and 70000 die yearly in the country. This disease is more prevalent among the people who live under poverty line. As per World Health Organisation, 50 percent of the adult people carry TB germs in the country.
Presently, the government and 28 non-government organisations including Brac are providing medical services to TB patients and raising awareness among the people in 460 upazilas across the country.
Fazle Hasan said TB patients need treatment for a fixed period of time, but they have a tendency not to complete the course.
Brac has, therefore, introduced a system under which a patient has to pay Tk 200 for the treatment, and will get it back only when the course is completed, he added.
"The system has worked. Other countries also now want to follow this system," he said, adding that there are 70000 employees who visit villages and find out possible patients and test their coughs and eventually provide necessary treatment to them.
TB and Leprosy Line Director Prof Dr Provat Chandra Barua said Bangladesh has witnessed good success in lungs-related TB cases, but not in TB cases linked to other parts of the body.
"We need to concentrate on this issue," he added.
Speaking as chief guest, Editor and Publisher of The Daily Star Mahfuz Anam said journalists are now more conscious on health, environment and other social issues than before.
"But sometimes it is observed that media only look at negative aspects, he said, adding that media should also focus on both good and bad sides of every issue.
Mahfuz Anam urged the NGO community to be ready to accept criticisms with open mind.
He said both media and NGOs can contribute hugely to the establishment and development of democracy in the country by working together.
AP Bureau Chief Farid Hossain said it is a good initiative of Brac to award journalists and it will encourage them for practising quality journalism.
Brac Health Programme Expert Dr Mahfuza Rifat and cultural activist Ramendu Majumder also spoke.
Those, awarded for their reporting, include Ahmed Musfica Naznin of BTV, Zannatul Ferdousi of Channel One, Shahria Hossain Ria of Channel i, Sadequr Rahman of the Sangram, Moniruzzaman Ujjal of the Jugantor, Mansura Hossain of the Prothom Alo, Saifuddin Ahmed of the JaiJaiDin, and Atindra Chakraborti of the Samakal.
Other awardees are Abu Bakar Sidique of the Dinkal, Anjuman Ara Khatun of the Prothom Alo, Jahiduzzaman of the Manobzamin, Abu Bashar of the Bhorer Kagoj, Ali Ashraf of the Juger Alo of Rangpur, Kazi Shahadat of the Chandpur Kantha, Mostafa Kamal of the Geeri Darpan of Rangamati, Rahul Kumar Roy of the Gramer Kagoj of Jessore, Kazi Mokbul Hossain of the Ajker Paribartan of Barisal, Rezaul Habib Reza of the weekly Suruk of Kishoreganj, Shahidul Alam Emran of the weekly Kalakantha of Feni and Shahab Uddin Shahin of the weekly Balaganj Barta of Sylhet.