TechFocusOutsourcing
Opening of the floodgates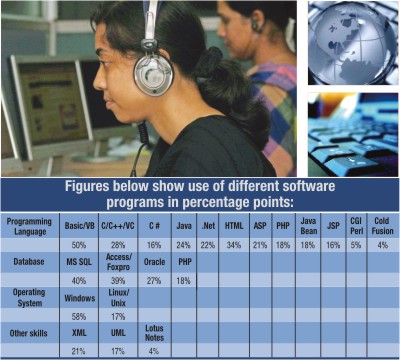 Outsourcing has become part of the business lexicon as big companies around the globe have opted for delegating some of their operations to external firms in a bid to gain a competitive edge in cut-throat global market.
Delegation of production and services has resulted into businesses operating in a distributed environment -- now a commonplace term as the spread of the internet has turned the planet into a global village where everybody is virtually connected to each other. This development has driven the corporate world to adopt information technology (IT) as an integral part of their operations because it paves the way for them to outsource their businesses.
Outsourcing is a business strategy. Companies now transfer their non-core operations to external service providers in order to achieve optimum result within a specific timeframe. Outsourcing, however, is not above controversy. But then it is considered as a solution to increasing efficiency, cutting down operation costs and generating more revenue.
India is now the ideal destination for firms to outsource their services. Many US-based companies purchase services from India, spawning call centres there. In addition, many Indian software companies provide their foreign clients with cutting edge software solutions. All these have generated huge employment for IT-educated people in the next-door country.
Apart from India, many eastern European countries develop animations for Hollywood movies. Dependence on technology and a shortage of IT-skilled people in some developed countries have driven big corporations to the developing world where labour is also cheap. All these have made outsourcing an immense opportunity for the IT industry in developing countries.
Bangladesh is still at the nascent stage in this sector. But we have the potential to tap this lucrative business. Outsourcing here first began in 1988. Since then the country has overcome many obstacles but it is yet to do better in the global market.
At this moment nearly fifty companies in Bangladesh are providing outsourcing service for more than thirty countries including USA, some EU countries, Switzerland, Canada, Japan, Australia, South Africa, the Middle East, Thailand and Malaysia.
Outsourcing services provided by Bangladeshi companies are offshore software development (business application, web services, games, cell phone application, embedded software, VLSI etc), animation (2D & 3D-cartoon, web publication, advertisement, 3D modelling), IT enabled services (GIS, CAD/CAE, architectural visualisation, network maintenance, desktop publication, document conversion), BPO (call centre, e-accounting, HR/payroll), software testing and verification service etc.
"We need a long-term vision as well as a strategic planning in order to move ourselves in the right direction", T.I.M. Nurul Kabir, a well-known IT personality and CEO of Spinnovation, told StarTech. "Bangladesh has tremendous potential in IT. The government should come forward to highlight this in the international arena", he added.
Spinnovation is a technology, consulting, outsourcing solution and services company which is affiliated with global leaders like Microsoft, Landsteinar Strengur hf, Avantus, Sagem Defence Securities, Borland etc. The company concentrates on areas such as telecommunications, manufacturing, retail store, health care, financial institution, distribution, estate etc.
Services available from Spinnovation are application development in .Net and Java, software QA and testing, ERP, CRM, SCM consulting, project management consulting, application lifecycle management etc. Recently Spinnovation, as partner of Microsoft and Landsteinar Strengur hf, has delivered the Point of Sale (POS) solution to all customer interaction centres of GrameenPhone, widely known as GrameenPhone Centre (GPC).
AKM Ahmedul Islam, COO, Bangladesh Japan Information Technology (BJIT) Ltd, expressed his concern about bandwidth price. He told StarTech that "highly expensive bandwidth is one of the major setbacks for outsourcing services in Bangladesh. We require one mega bandwidth for each PC when testing software. Existing bandwidth price is a great hurdle for us."
BJIT is the first joint venture ICT company having offices in Dhaka and Tokyo. It operates in four business areas -- software development, software testing, CAD/CAE and technology consulting. The company has already proved itself a success. It is currently working for renowned companies like Nokia, IBM Japan, NTT Data, Access Co Ltd and Metso Paper.
In 2002 BJIT teamed up with Taito, a famous Japanese game company, to develop four games for Nokia. These games were developed on Symbian platform for Nokia N-Gage device.
Bangladesh Association of Software and Information Services (BASIS) has taken some pragmatic initiatives such as 'IT-upgrade' and 'BITMAP' to create awareness and develop expertise in local IT companies to compete in the international market.
IT-upgrade is a project funded by the Asia Investment Programme of European Union and implemented by BASIS with technical assistance from Germany's Bremen University and Paris Chamber of Commerce and Industry. The project focuses on providing training for BASIS companies in software development and transferring European know-how to them so that they become eligible to sell their products and services in the European markets.
Recently, BASIS has unveiled BITMAP (The Bangladesh Information Technology Management Programme), an initiative to build the capacity of local IT industry. This project is also funded by the EU's Asia Investment Programme. Partners of the programme are Federation of Small and Medium Enterprises (DFSME), Denmark, Greater Manchester Chamber of Commerce, UK and T&E, Finland.
Outsourcing brings a ray of hope to exhibit our innovations and prove our competency. We should utilise this unique scope for the sustainable development of IT industry. An alliance between academia and industry could play an important role in turning our youngsters into resources.