VittachiOnly in AsiaBy Nury Vittachi
Forget the beer and knock back a nice glass of salad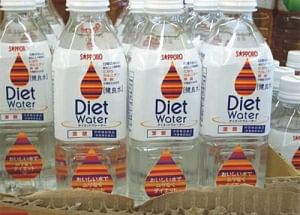 I received a fascinating letter from a reader in Singapore. "Dear columnist, I read that the Japanese beverage firm Sapporo has launched a drink called Diet Water, which has no calories. I thought water had no calories anyway. What's the deal here?"
Ah, now this reader has stumbled upon a popular strategy in modern business known as "Marketing to the Terminally Stupid."
By virtue of the fact that he reads this newspaper, we can tell that he is a highly intelligent person and knows that all water is diet water. But the sad truth is that many, many people have the same brain capacity as single-cell bacteria. Proof of this is the existence of thousands of people who buy Diet Water.
By coincidence, this just happens to be the anniversary of the day that John Pemberton first advertised his new drink Coca-Cola, way back in 1886, so let's look at unusual soft drinks from Asia and elsewhere on the planet.
Pepsi Cucumber: The American beverage maker Pepsi, looking for flavours that would appeal to the Asian palate, launched this in Asia only. It is not green. That's the only nice thing I can think of to say about it.
Future Cola: This is the Chinese copy of Coca-Cola, made by Wahaha Group. It is basically Coke with yummy added Chinese herbs and spices, bits of root and bark from the cassia tree. The slogan is "The Chinese People's Own Cola." Extensive attempts have been made to export it, but the rest of the planet's reaction appears to be: "And they can keep it."
Coolpis: If you think the name is bad, just wait till you hear about the contents. Every carton contains a whole litre of liquidized fermented cabbage. It comes from South Korea, but mysteriously has also failed to attract a big following in the international market.
Kidsbeer: This is a Japanese drink for pre-teens. It looks like beer and has a nice foamy head, but instead of alcohol, has large amounts of nice, healthy white sugar. It is advertised with television commercials of small children chugging it down like Mel Gibson with a barrel of Carlsberg.
Red Can Pepsi: In the run-up to the Beijing Olympic Games, the Pepsi-Cola company re-launched their drinks in red cans. They said they wanted to be more patriotic. Coca-Cola spokesman Kelly Brooks told the Wall Street Journal: "Red? Great idea. Why didn't we think of that?"
Water Salad: This, believe it or not, is a lettuce flavoured drink made for the Asian market by the Coca-Cola Company.
Incidentally, the Coke folk make all sorts of strange drinks most people know nothing about. They make Love Body (a red tea-flavoured drink sold in Japan), Maaza (a Bangladeshi fruit drink) and Mr. Pibb (a fizzy cherry drink sold in the Marianas Islands). Other Coca-Cola drinks include Jolly Juice, Old Colony, Pocket Dr, Relentless, Safety First, Scorpion, Urun, and Sparkling Yoghurt.
In the Philippines, Coke makes a drink called Eight O'Clock Fun Chum. That would have been a good nickname for a friendly Manila bar-girl I used to know in my younger days. The only thing she ever drank was "Ladies' Drink," which guys had to buy for her at a vastly inflated price.
But it was still better value than Diet Water.
You'll find lots more unpalatable material at www.vittachi.com