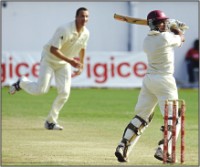 Stuart Clark cut down West Indies' top-order batting with his steady, accurate fast-medium bowling to tighten Australia's grip on the opening Test on Friday.
Clark has so far collected three wickets for 18 runs from eight overs, as West Indies, replying to Australia's first innings total of 431, reached 115 for three when stumps were drawn on the second day at Sabina Park.
Clark removed Devon Smith, Ramnaresh Sarwan, and Brenton Parchment in a tidy opening spell which left the home team wobbling on 68 for three.
But Shivnarine Chanderpaul, not out on 25, joined Runako Morton, not out on 23, and they carried West Indies through to the close with little or no incident.
Australia captain Ricky Ponting had turned to Clark, after the new-ball pair of Brett Lee and Mitchell Johnson failed to make an early breakthrough, and West Indies started confidently to reach 47 without loss.
Clark, bowling with typical metronomic consistency, bowled Smith for 32, when the left-handed opener inside-edged a well-pitched delivery on to his stumps, after he played forward defensively.
He then had Sarwan caught behind for seven, when the West Indies captain essayed a reckless upper-cut at a short, wide, rising delivery.
Clark added to the West Indies' woes, when he drew Parchment on to the front foot with a well-pitched out-swinger and had the West Indies opener caught behind for nine after batting for close to two hours.
Australia had failed to make an early breakthrough before tea.
Lee and Johnson extracted pace and bounce, but little sideways movement from the Sabina Park pitch, and the two West Indies openers navigated safely through the 40 minutes before tea.
Whenever the Australian bowlers strayed however, they were punished. Smith may have settled the butterflies with a searing cut through backward point for four off Johnson, although Parchment survived a stern examination from Lee.
But the Australians were fortunate to mount such a significant total, after Andrew Symonds battered the West Indies bowling in the latter stages of their innings to finish unbeaten on 70.
Fidel Edwards was the most successful West Indies bowler with five wickets for 104 runs from 26.5 overs, and Darren Sammy supported with two for 78 off 29 overs.
Symonds reached his 50 in the fortuitous circumstances, when he swung Sammy to long-on and West Indies captain Sarwan muffed a chance inside the line, and the ball spilled over the boundary rope for six.
Symonds was also fortunate that umpire Russell Tiffin did not adjudge him lbw to Edwards with the first ball after lunch, as television replays suggested.
He remained and farmed the bowling with the tail to extend Australia's innings deep into the afternoon period, after West Indies snared the scalps of Lee and Clark cheaply after lunch.
Lee was adjudged lbw to Edwards for four, when he sought to take evasive action from a shortish delivery and was trapped in front when the ball did not bounce as much as he anticipated.
Clark frustrated West Indies for almost half-hour before he was caught at mid-off for three, when he mistimed a drive at a slower delivery from Daren Powell and Dwayne Bravo flew through the air to hold a priceless catch.
Stuart MacGill came to the wicket and he spent half-hour at the crease to continue to frustrate West Indies and added 32 for the last wicket with Symonds before he was bowled with a well-pitched yorker from Edwards for two to formalise the West Indies fast bowler's sixth haul of five wickets or more in Tests.
Before lunch, three wickets, two to Sammy, and purposeful bowling from West Indies slowed Australia down.
At the interval, Australia had reached 372 for seven, after they continued from their bedtime of 301 for four, looking to mount a formidable first innings total.
But the West Indies' bowlers, making full use of the variable bounce of the pitch, shattered the visitors' plans with accurate bowling.
The pressure mounted and Brad Hodge cracked, when he tried to guide a delivery from Edwards to third man and was caught behind for 67 in the first half-hour of the morning to leave Australia 326 for five.
Australia were so hemmed-in by the miserly bowling from West Indies that they could only add 24 runs in close to an hour in between the time that Hodge and Johnson were dismissed.
Johnson spent another 1-1/4 hours at the crease frustrating West Indies before Sammy made the breakthrough, when he was caught at mid-on for 22 driving at a slower delivery.
With lunch approaching, Brad Haddin, playing his first innings as Australia's 400th Test player, tried to loose the bonds placed on the Aussies and paid a hefty price.
The Australia wicketkeeper-batsman was caught behind for 11.