Abahani triumph
Lift back-to-back Premier League titles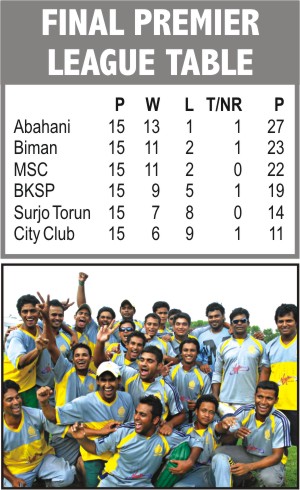 When Arafat Sunny drove Mohammad Sharif towards the mid-wicket rope, Abahani sealed their second successive Premier League title beating Surjo Torun by four wickets at BKSP in Savar on a tension-filled Wednesday.
Abahani, level on points with Bangladesh Biman going into the final day of Super League matches, took 41.3 overs to reach 162 that raised their points tally to 27, two ahead of Biman who lost badly to Mohammedan.
When Sunny arrived at the crease to join Nadif Chowdhury, Abahani still required another 14 runs for victory but once the nerves settled, Sunny eased two boundaries to give Abahani their 15th triumph in 33 years and second trophy this season after their Twenty20 conquest back in April.
Left-handed pair of Shahriar Nafees and Sri Lankan Thilina Kandamby shared 69 for the fourth wicket after the Dhanmondi outfit were reduced to 29-3. Kandamby, in his first stint as a foreign recruit in Dhaka, smashed four boundaries and a superb straight-driven six off Mohammad Younis to score 46 before holing out to Shakil Haider at deep mid-wicket off the same bowler. Nafees, on 31, was given leg-before to Younis although the southpaw rejected the decision saying it hit his bat first. After both the left-handers fell, Abahani's skipper Tushar Imran decided to waft at a Monwar Hossain delivery outside off-stump, only to be caught behind by Khaled Mashud for 13 to hand back the advantage to Surjo Torun, who deployed aggressive field settings to enliven the atmosphere at the usually tranquil cricket ground.
But after Surjo Torun skipper Nayeem Islam won the toss, openers Shamsur Rahman and Shakil Haider tore into the Abahani pace attack. Ziaur Rahman's first over produced four boundaries and it was in-form Shamsur who smashed all of them including a pulled six off Talha Jubair in the next over. Tushar Imran handed the ball to his left-arm spinners and it was Mohammad Rafique who broke through, dismissing Shakil for 11. Shamsur (29) became Sunny's first victim, clean bowled while trying to sweep.
"When Shuvo (Shamsur Rahman) got out, I knew that it was our day," said Tushar who also added that the first four overs made him very nervous.
Apart from Shamsur's wicket, man-of-the-match Sunny removed Nizamuddin Ripon, Khaled Mashud, Mohammad Sharif and Monwar Hossain to end with figures of 5-13 off 8.2 overs. Rafique took two while Tushar Imran, who took the prized wicket of opposite number Nayeem Islam (57), took two wickets as well. Nayeem struck five boundaries and two sixes in his 61-ball innings but after his departure, Surjo Torun quickly folded in the 40th over.
Meanwhile, Dollar Mahmud showed his big-hitting ability as Mohammedan Sporting Club finished their disappointing Premier League campaign with a consolation 124-run victory over fallen title runners Bangladesh Biman.
Biman were in a difficult title race with Abahani on the concluding day of the competition but they were nowhere in the last game at the Sher-e-Bangla National Stadium.
Another top order failure, after being sent into bat first, put Mohammedan in trouble but Dollar joined man-of-the-match Suhrawardi Shuvo to change the scenario as their 97-run eighth wicket stand empowered them to post a challenging total of 239.
It was however entertaining to watch Dollar putting the country's leading paceman Mashrafe Bin Mortaza to the sword by smashing two big sixes, one over square-leg and the other over long-on, and two fours in one over.
The right-hander smashed two more sixes and two boundaries during his 42-ball 60 while Shuvo chipped in with 57 off 70 deliveries with five fours and a six during their rescue act despite Mashrafe's three wickets in the last over to return with five for 52.
In the day's other match, BKSP finished their impressive debut campaign with a five-wicket victory against City Club at the Fatullah Stadium.
SCORES IN BRIEF SURJO TORUN: 160 all out in 39.2 overs (Shamsur 29, Shakil 11, Ripon 24, Nayeem 57, Mashud 5, Uttam 7, Nazmul 8, Sharif 9, Monwar 0, Younis 4, Monirul 0*; Talha 1-49, Rafique 2-13, Sunny 5-13, Tushar 2-10).
ABAHANI: 162-6 in 41.3 overs (Sahagir 1, Mahbubul 15, Rezaul 2, Nafees 31, Kandamby 46, Tushar 13, Nadif 34*, Sunny 10*; Sharif 2-28, Monwar 1-31, Younis 2-31, Nayeem 1-28).
Result: Abahani won by four wickets.
MOHAMMEDAN: 239 all out in 50 overs (Imtiaz 9, Kayes 25, Rashedul 20, Ashraful 3, Rokibul 1, Faisal 38, Mintoo 11, Shuvo 57, Dollar 60, Tareq 0*, Yasin 0, extras 15; Mashrafe 5-52, Mosharraf 3-20, Mahbubul 2-61).
BIMAN: 115 all out in 28.3 overs (Javed 1, Tamim 16, Nasir 6, Mosharraf 2, Kapali 19, Sanwar 0, Mashrafe 23, Mushfiqur 25, Sajjad 1, Mahbubul 6, Nabil 4*, extras 12; Tareq 3-33, Dollar 1-14, Yasin 2-22, Shuvo 2-30, Imtiaz 1-13).
Result: Mohammedan won by 124 runs.
CITY: 113 all out in 35.4 overs (Rasel 1, Karim 8, Imran 12, Bashar 29, Mabud 36, Sumon 5, Rashedul 1, Shafaq 0, Golam Hossain 3*, Atiqur 5, Sumon Saha 0, extras 13; Kibria 2-32, Emon 1-26, Nasir 1-24, Reefat 2-22, Raihan 3-3).
BKSP: 117 for 5 in 30.1 overs (Mithun 4, Inamul 43, Rahman 8, Mushfiqur 26, Nasir 21*, Mahmudul 1, Mominul 8*, extras 6; Shafaq 1-30, Rashedul 1-28, Atiqur 2-25, Golam Hossain 1-5).
Result: BKSP won by five wickets.