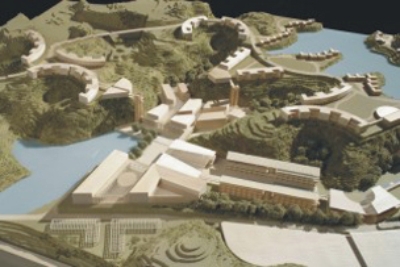 AFTER much anticipation, Asian University for Women started its journey on April 5. With the aim to bring out the leadership quality of the students, the university is offering international quality of education to the students. This private educational institution aims to help underprivileged girls to become educated, self-employed and ready to face any challenge that comes their way. The university is the brainchild of Kamal Ahmed, a Bangladeshi born corporate lawyer working with the Asian Development Bank.
The university will be following a liberal arts curriculum, and some of the courses that will be offered are IT and Sustainable Development, Environmental Engineering, Public Policy etc. But one of the fascinating features of the institution is that all the second year students will be required to take a course in Women Shaping Society. Rangita de Silva-de Alwis from Wellesley College says this course will "provide an alternative discourse to challenge prevailing norms on gender in Asia and help students become a vital part of Asia's new role in global, social, and economic development, or what Susan Roosevelt Weld refers to as 'Asia Rising.' " Rangita de Silva-de Alwis is the senior adviser for international programs at the Wellesley Centers for Women (WCW) at Wellesley College in the United States.
The curriculum of the university is going to be more action oriented than text-book oriented. AUW's vice-president for academic planning, Dr. Hoon Eng Khoo, says: "We have an innovative curriculum. We, the faculty, will help them to develop certain qualities such as leadership, the ability to solve problems, etc. Here they will learn that they are capable of doing anything. They have the ability to change things and be good leaders." Dr. Regina Papa, the head of admission says: "In a co-ed school the girls are always the back-benchers, and they are forced to be the back-benchers. It is difficult for them to fight and come to the front. Here they will not face such problems. They will be the front-benchers all the time."
The students will begin with a three-year undergraduate program, followed by a by two years of specialised graduate professional training. The courses in the undergraduate program include mathematics, natural and physical sciences, social sciences, and arts and humanities (including philosophy, literature and languages). The students will be offered graduate professional training from a selection of five programs -- public policy, education, management, environmental engineering, and computer science. Apart from that there will also be a pre-SSC program where the students will be taught English and IT.
This university welcomes students from all around the globe. Asian University for Women began its journey with 131 students, among whom are 60 young women from Bangladesh, 30 from Sri Lanka, 19 from India, 11 from Nepal, 8 from Cambodia, and 3 from Pakistan. Young women from all around the globe, regardless of caste, religion, nationality and ethnicity, are welcome there. There are Hindu, Muslim, Christian and Buddhist students there. It is not juts a place where people of different religions have united, the ethnic backgrounds of the pupils are also diverse. There are Tamils and Sinhalese from Sri Lanka; Malayalis from India; Newar and Chhetri students from Nepal; Chakma, Punjabi and last but not the least, Bengali students. This cultural diversity will help the pupils meet people from around the globe.
The faculty hopes to recruit at least 500 students per year. Per year it will cost $10,000 (Tk 700,000 approximately). The students will be given scholarships based on need. The university will provide 50% of the students with scholarship.
This institution has an excellent extra-curricular facility. It has a gym, athletic facility, centre for performing arts, places for meditation, computer center, etc. Other than that, the students can also take karate lessons for self-defense.
This university will guide its students to be future leaders and role models for the future generations. The institution will grow in terms of number of students and campus. In the near future is it will be a vibrant open-to-all institution.
Saushan Rahman is editorial assistant, The Daily Star.