Tony Dias: On screen and behind the scene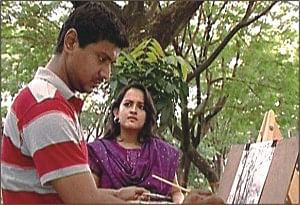 Tony Dias, a familiar face on the small screen is also busy behind the scenes. The popular actor has also been directing plays. ATN Bangla will air Hotath Dekha -- a single episode TV play directed by Tony -- tonight at 8:45 pm. Written by Shahrukh Shahid the play features a moving story of a young man, Ronju (played by Tony) who is shunned by all, after he becomes infected with HIV through blood transfusion.
The actor turned director talked to The Daily Star on the learning curve of direction and more.
The Daily Star (TDS): Why direction?
Tony: Direction is something, which I had in mind since 1999 but that didn't realise because it is a time consuming business. In our country direction requires mastering many aspects. Apart from direction skills, a director has to pay attention to every possible detail. He is required to remain vigilant during the entire shooting process -- the sound quality, picture quality, managing the crew and more.
TDS: Tell us about plays directed by you
Tony: My first work as a director was Dur Kuashaye Tumi, a tele-film written by Fariha Hossain. It was aired during the Eid-ul-Fitr in 2006. After that I have completed four more productions. My last play was aired on ntv during the last Eid-ul-Azha. Hothath Dekha is my sixth production.
TDS: Are you considering direction fulltime?
Tony: After acting, family and my business, I hardly have any time left. Taking time out for direction is rather challenging. It is only during the special occasions like Eid when I have time for direction. I am certainly interested but I'm afraid I'll only be able to direct few plays.
TDS: What do you consider to be most important in direction?
Tony: First of all I don't make compromises when it comes to maintaining the quality of the production. I don't have many productions to my credit but I am totally dedicated. I work on each project with the same sincerity, so that the audience can enjoy it.
TDS: Which is more difficult, acting or direction?
Tony: (Smiling) Direction is more challenging, I'd say. An actor follows the instructions of the director. The director guides him but there is no one to guide the director. The director has to think on his own. If the production doesn't generate the expected response then all fingers point to the director.
TDS: Tell us about "Hotath Dekha"
Tony: The play highlights a tragic love story. The characters are victims of an unkind reality. Ronju is forced to cut all connections with his wife whom he truly loves, when he becomes aware that he is HIV positive. Mili, Ronju's wife, misunderstands him. The fact that her husband is HIV positive hits her so badly that she even tries to committee suicide. Eventually Mili understands the truth but it might be too late to change anything.
According to Tony, "Shooting for the play was tough, as a major part it takes place on a train. Ishita (who plays Mili) has done an amazing job!"
Apart from Tony Dias and Ishita, the play also features Masud Ali Khan, Nasim and others.