Army recovers arms, ammo in 2 CHT dists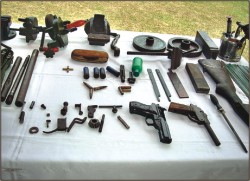 Army personnel yesterday recovered firearms, ammunition, firearms-making equipment mobile phones, medicine and surgical equipment from two hideouts of criminals at Ugoichhari of Rangamati and at Ujirchhara of Khargachhari early yesterday.
Our correspondent from Rangamati reported that, security personnel, led by Lt Col Masud Razzak, cordoned a forest at Ugoichhari, some 11-km from the district town, on Thursday night.
They searched a den of criminals in the forest throughout the night and recovered two pistols, bullets, uniforms, nylon belts, firearms-making equipment, a drill machine, a dice and a toy pistol.
Sources said the criminals fled the den sensing the presence of the army personnel.
In another drive at Ujirchhara under Dighinala upazila of Khagrachhari, the security personnel recovered one pistol, one rifle, 20 bullets, two mobile phones, medicine and surgical equipment from a hideout of criminals, according to BSS.