Anadi Kumar Boiragi's "Journey of Hope"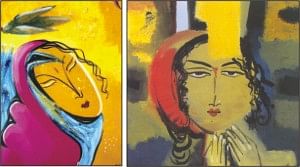 With legendary artist S.M. Sultan as his mentor, Anadi Kumar Boiragi from Jessore attended Khulna Art College in the late '80s, before enrolling at the Oriental Department at Charukala in Dhaka to further his artistic education. There, Boiragi is grateful to have found another guru, Shawkatuzzaman, who encouraged him in a very special way, spending valuable time helping develop his style.
Boiragi has participated in various group shows in Bangladesh and also made contributions towards exhibitions at the Chuwa Gallery in Tokyo. He is not new to solo exhibitions either, having had his first two at the Alliance Francaise in Dhaka. The paintings at those exhibitions were mainly abstract, mythical compositions; "symbolic art" in Boiragi's words.
His third solo effort is somewhat different, particularly where rationale and style are concerned. The exhibition has been specifically planned to raise funds for those badly affected by the floods that recently ravaged the country.
"Artists have a social responsibility and to me, empathy is more valued than sympathy," says Boiragi. Stylistically, it is his first real figurative adventure, with paintings in oil on canvas, acrylic on paper and in watercolour, all making an appearance. This reflects his view that "the flood is all about people and to this end, it made sense to choose figurative works". Boiragi's technique has been greatly influenced by Abanindranath Tagore's Bengal School renaissance of artistic style.
Planned in early August, the exhibition was put together at short notice with the help of his curator friend, Zaid Islam, with the idea that all proceeds would be donated to the Chief Adviser's Relief Fund. Sadly, Boiragi was unable to find any sponsor, so barring costs, all profits will go directly towards flood relief.
"You can't force someone to buy a painting, but at least an awareness can be created about the underlying idea of the exhibition," says the artist. In conjunction with the paintings, there is a parallel collection for dry food and medicines.
"There seems to be a trend, that an artist's standing in Bangladesh takes an enormous leap if they have successfully exhibited abroad; otherwise, one isn't truly valued here," to this end, Boiragi wishes to broaden his horizons and take his art outside the borders of this country.
The exhibition is on at The Art Club (House 4, Road 104, Gulshan 2) until September 14.
The writer is a freelance contributor