CNG Conversion Rate Picks Up
High demand, fewer stations cause chaos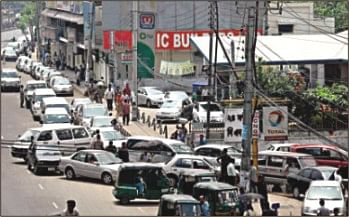 The CNG refuelling stations in the capital are struggling to cope with the ever-increasing demand for the fuel as conversion of petroleum-run vehicles continues at a very high pace.
On average, about 2,000 vehicles are being converted into CNG-run ones every month, and about 92,135 vehicles were converted in 116 conversion workshops across the country until March this year.
The insufficient CNG stations, which face frequent disruption due to persisting power outage, result in long queues of vehicles, often impeding traffic flow on the surrounding roads.
As the potential entrepreneurs keep seeking permission to set up new CNG stations to avoid such gridlocks, the authorities concerned blame it on lack of land.
The sufferings of both passengers and drivers intensify when they have to remain stuck in long queues for hours amid scorching heat. A large part of their time is being eaten up while waiting for refuelling.
Sometimes the long line of vehicles is seen stretching up to even one kilometre.
According to Rupantarita Prakritik Gas Company Limited (RPGCL), there are about 1.32 lakh CNG-run vehicles in the country.
The RPGCL however does not know how many of these vehicles run in the capital.
The converted vehicles put tremendous pressure mostly on the 99 refuelling stations in the city in addition to 130 stations elsewhere in the country.
With the existing refuelling stations already being inadequate, power outage adds to further misery.
The storage of a CNG station becomes empty while giving fuel to the vehicles and if the power goes off at that time, it takes at least half an hour to fill it up again. In the meantime, the queue stretches further, say some refuelling station employees.
They warn the situation would get worse in the coming days if new stations are not set up in time.
According to RPGCL, 19 more stations will be launched by June this year, including three in Dhaka.
Drivers of CNG-run three-wheelers and taxicabs say they often need several hours for refuelling.
Abdul Hamid, driver of a three-wheeler, was in the queue at Mohakhali. He told The Daily Star he was waiting for about two hours but yet to get fuel as power went off suddenly.
"It was 7:00pm when I joined the queue and now it's 8:30 and I don't know when I will get fuel. I could have earned over Tk 100 in the meantime," said the frustrated driver.
"People often scold us if we ask for extra fare … tell me what should I do when I have to waste so much time for fuel," said taxi driver Rahim Mia.
"I have to pay Tk 700 to the taxi owner and run my four-member family with the remaining money. Moreover, the prices of essentials have gone beyond our reach."
Earlier, it took at best 45 minutes to refuel, but now it takes at least three to four hours, he said.
Some CNG-run three-wheelers drivers allege most of the refuelling stations give privilege to the larger and expensive vehicles, which consume more gas.
Entrepreneurs say if the government gives easy loan to add CNG refuelling facilities to the existing petrol pumps, the problem will reduce significantly.
Nazmul Haque, president of Bangladesh Petrol Pump Owners' Association, said they would soon submit a proposal to the ministry concerned in this regard.
As there is shortage of land, the government may allow setting up CNG stations in the limited space with a condition of two nozzles only for light vehicles, he added.
The government should find out ways for leasing out more land or allow the private entrepreneurs to set up stations in the existing pumps to ease the pressure, the entrepreneurs add.
According to RPGCL, around 47.86 million million cubic feet (mmcf) gas is currently being used in the 229 stations across the country and around Tk 390 crore is being saved every month for using CNG.