Baishakhi open-air concert in Tangail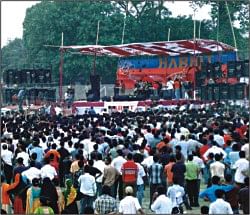 A Baishakhi open-air concert was held in Tangail town recently.
Haji Abul Hossain Institute of Technology (HABHIT) arranged the concert at Tangail Stadium to welcome the new Bengali Year 1415.
Close Up 1 star singers Mohit, Mila, rock singer Amin and local rock artiste Lemon performed modern and band songs in the concert.
Earlier, Tangail Additional District Magistrate (ADM) M Tariqul Islam; acting chairman of Tangail municipality Jafar Ahmed; former general secretary of Zila Shilpokala Academy Harun-ur-Rashid; HABHIT Chairman Sanwar Hossain and its executive director Ashraf Hossain spoke at the event.
Thousands of people enjoyed the concert.
Private TV Channel Baishakhi was the media partner of the event.