International Dance Day celebration '08
"Dancers in the country should work collectively"
-- Amanul Huq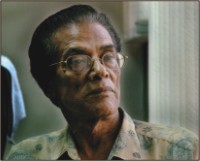 Amanul Huq, who began his career as a dancer in 1959 under the guidance of Ghonoshyam Anjariya in Karachi, Pakistan, is now a prominent name in the Bangladeshi cultural scene. The convenor of Bangladesh Nrityashilpi Sangstha (BNSS), Amanul Huq is the co-convenor of this year's International Dance Day celebration programme. The Daily Star spoke with Amanul Haque recently.
"This year's celebration programme is elaborated and particularly significant as several dance gurus of the country are coming together on the occasion. "Jealousy' and 'ego' have often created differences among a fraction of dancers and the rest remained out of focus. But this year we, the senior artistes of the country, have decided to ensure that all leading dancers of the country take part in this festival," said Amanul Haque.
He added, "Due to the lack of solidarity, dancers have been missing out on so many opportunities. If we don't move collectively, dreams of giving dance an institutional form, including the performing art in academic curriculum and others will never be realised. It is never too late to start working as a team."
On the current scenario of dance in the country, Amanul Haque said, "The overall standard of dance in the country is not satisfactory. Only a few experimental works are noticed. We are yet to established any dance form as 'classic'. As dance is not an attractive profession, many are not interested in continuing dance in the long run. Participation of male dancers is few and far between. Getting male dancers for a quality dance drama is difficult."
But Amanul Haque is optimistic. He believes that this year's International Dance Day celebration will encourage the dancers to work together for the betterment of the art form. He hopes for more patronage from the government, especially from the BSA.