Dhaka can follow China-Pakistan model for nuclear ties with Beijing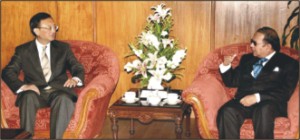 Foreign Adviser Dr Iftekhar Ahmed Chowdhury yesterday said Bangladesh-China peaceful nuclear power cooperation can be built on the China-Pakistan model as China wanted to get involved in Rooppur Nuclear power plant.
"Our governments signed letter of exchange to construct an Exhibition Centre in Bangladesh. Furthermore, he has offered to us a 60 million yuan free grant for this year," he said.
China has shown keen interest in a bigger role in the development of Bangladesh and wanted to get involved in larger projects like Rooppur Nuclear power plant, the foreign adviser told the media at the Zia International Airport while seeing off his Chinese counterpart.
On the completion of a two-day visit, Chinese Foreign Minister Yang Jiechi left here in the morning for Pakistan.
Dr Iftekhar Chowdhury said Bangladesh and China are partners in the new Asian Age and the visit of Chinese Foreign Minister Yang Jiechi would further cement this relationship.
"Our friendship is rooted in history, but like all friendship relationships between nations have also to be renewed and reinvigorated from time to time, and this visit was an occasion to do just that," the foreign adviser stated.
Replying to a query, he said: "We have told him [Jiechi] of our `One-China policy'. We have said matters pertaining to Tibet are internal affairs of China… have agreed the forthcoming Olympics in Beijing will be an occasion of pride for all Asians and [it] must not be politicised."
He added: "We discussed regional and international politics as well. I have explained to him the warmth of our relations with India and Pakistan, and the growing cooperation with all SAARC countries. Very importantly, we've talked about going ahead with the idea of a tripartite understanding among Bangladesh, Myanmar and China regarding a road linkage, something that I had raised with him earlier at a bilateral meeting in Manila."
Asked about Chinese view on the caretaker government's performance, the foreign adviser said: "Minister Yang Jiechi has lauded it. I have told him we have scheduled elections for December, and he was pleased with the progress of our road map leading to it. In the meantime, he was deeply satisfied with Bangladesh's international role as a peace-loving and stabilising force."
"We both recognised that in the dawning of this new Asian Age we both have responsibilities. We must bring our peoples a much better quality of life as we are doing. We must provide each other mutual help. A new chapter in the history of the world has begun," he said.
The Chinese foreign minister has conveyed invitation to Chief Adviser Fakhruddin Ahmed on behalf of the Chinese prime minister and to the foreign adviser on his behalf.
"We'll need to work out the details," the foreign adviser said with regard to the schedules of such visits.