65pc people got warning before 24hrs of Sidr
Survey reveals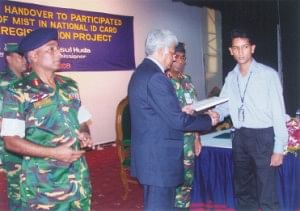 Sixty-five percent people living along the coastline had received warning signal before 24 hours and 28 percent got 12 hours before the super cyclone Sidr that hit the country last November, revealed a survey.
For this early warning, people got sufficient time to evacuate and took shelter at safe places, said the survey report on 'Disaster relief activities in Bangladesh' conducted by Japan International Cooperation Agency (JICA) recently.
The report said major sources of receiving warning signal were radio (49.5 percent) and television (46.5 percent) while 32.5 percent people received warning from Union Parishad through miking. Only 5.54 percent and 2.5 percent people received warning from Union Disaster Management Committees (UDMC) and CPP volunteers respectively, it added.
The survey found that most of the people have no clear concept about intensity of danger signal. Household data exposed that 84 percent respondents are dissatisfied with the effectiveness of present early warning system.
Around 80 percent respondents have heard only danger signal number, 51 percent expected an abnormal height of tidal surge while 41 percent knew only that a cyclone might hit.
The report, observed that most of the people are illiterate and they don't know significance of storm or wind by number of signal, possible speed of wind, height of tidal wave, which is usually broadcast through television and radio.
The survey found that among the vulnerable population, a large number of people have no access to radio and television.
The report recommended establishing a local warning dissemination system by involving local volunteer group, members of Union Disaster Management Committee, cyclone shelter management committee and NGOs. Different equipment including hand mike, torchlight and first aid box need to be given to the volunteers for immediate response to disaster.
It also said port based signalling and warning system should be converted to people based and complete messages including speed of wind, expected time of cyclone, expected height of tidal wave, intensity of cyclone should be disseminated in easy language understandable to the common people.