Polls Under Emergency
New US envoy says task to be very difficult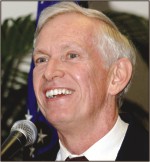 New US Ambassador to Bangladesh James F Moriarty yesterday said the state of emergency should be lifted as it will be 'extremely difficult' to hold an election under emergency rules.
At a news conference in the American Club just hours after presenting his credentials to President Iajuddin Ahmed yesterday morning, Moriarty said the emergency does not allow political parties to campaign for elections and hinders other electoral preparations.
"I will tell the government…that the United States believes credible elections would be extremely difficult under a state of emergency and it should be lifted," said Moriarty in his first news conference since arriving on April 10.
He said it will be 'impossible' for political parties to campaign under the state of emergency.
Earlier, the President's Guard Regiment had given Moriarty a guard of honor before he submitted his credentials to the president. They discussed bilateral relations, when the president told Moriarty about government plans to hold the stalled ninth parliamentary election by the year end.
At the news briefing, Moriarty said his objective 'is to see elections occur at the end of this year', adding, "My hope is that those elections will result in a more stable and deeply rooted democracy."
"This is a critical time for Bangladesh a country in transition in a region of the world vital to US interests," he said.
He quoted US Secretary of State Condoleezza Rice as saying, "We look to increased partnership as Bangladesh takes its rightful place as a country that can help to bring stability and strength to South Asia."
The new envoy said, "Promoting democracy, ensuring development, and denying space to terrorism are the key challenges Bangladesh faces, and are vital to the future of the relationship between our countries."
He said the US is encouraged by the commitment of Chief Adviser Fakhruddin Ahmed to holding elections and by the assurance from Army Chief Gen Moeen U Ahmed that the army has no intention of usurping power.
The US envoy also said 'further role of the army will isolate Bangladesh from the region and from others around the world', reported UNB.
"Much has been accomplished in a short period of time, but with less than eight months remaining of this government's tenure, there is much work that remains to be done," he said.
He said corruption in Bangladesh needs to be addressed and the winner-take-all approach needs to be discarded by political parties.
Asked about his observations on trials of the two detained former prime ministers BNP Chairperson Khaleda Zia and Awami League President Sheikh Hasina Moriarty said 'they should be released if the allegations against them are insubstantial'.
He however hoped that due process will be followed and fair, free and transparent trials will be held as soon as possible if there are substantial allegations.
He also said if there are signs that the trials are not transparent, free or fair, that will undermine efforts to re-establish democracy.
On terrorism, Moriarty said, "The biggest problems here in regard to terrorism are lack of good governance and lack of prosperity."
Moriarty said human rights will be 'one of the major issues' in his discussions with government officials, adding, "The human rights report from last year was not a good one."
He also said there are 'obvious concerns' with the anti-corruption trials, which he hoped will follow due process.
The new envoy said rising food prices and food shortages will be his other main concerns here as the US is looking to release further stocks of wheat.
The US has provided around $5 billion in aid to Bangladesh since independence, with an annual average of $100 million.
Moriarty was the US ambassador to Nepal between 2004 and 2007.