Cop's quick thought saved many lives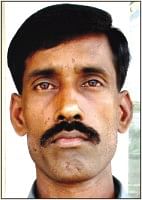 Presence of mind of a constable of Jamuna Bridge East Police Station yesterday saved the lives of many injured passengers trapped inside the wreckage of the bus that was lying upside down across the railway near Ibrahimabad Railway Station.
Constable Khalilur Rahman was hoisting the national flag at the police station at dawn yesterday when he saw the Dinajpur-Dhaka intercity Ekata Express was leaving the station which is 7km away from the accident spot.
Khalilur immediately ran to the train tracks with the national flag and waved the red portion of it to stop the train.
Seeing the signal, the driver stopped the train.
Hailing from Phuldaha village under Sarishabari upazila of Jamalpur, Constable Khalilur Rahman, 45, told The Daily Star that he knew about the bus accident and that the damaged bus was still lying on the tracks with its injured passengers.
"Panic gripped me when I saw the train speeding up. I thought if I do not stop it, no one else would notice it was going towards the spot...I have only performed my duty," he said.
"Many passengers trapped inside the wreckage of the ill-fated bus would have been killed if Khalilur had not stopped the train timely," said Fazlul Kabir, officer-in charge of Jamuna Bridge East Police Station.
The Ekata Express was stranded at Ibrahimabad Railway Station while train communications remained suspended for four hours until the wreckage of the bus was removed from the railway line, he added.