Housing
Migrants fuel luxury home boom in Sylhet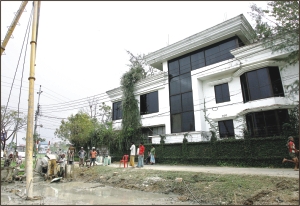 British restaurateur Mohammed Nannu admires the new crystal chandeliers adorning his mansion just a stone's throw from the impoverished Bangladeshi village where he grew up.
The luxury six-bedroom house was a dream come true for his late father who emigrated to Britain with his wife and four sons but always longed to return to Sylhet, the region once home to most of Britain's Bangladeshi immigrants.
"My father devoted a lot of time to bringing us up and so we wanted to build a home for him and my mother here," said Nannu, 33, from the British city of Birmingham where he and his brothers run a string of family-owned restaurants.
"Dad had a small stall here selling tea and biscuits. He went to Britain when I was 10 planning to earn a living and come back. We settled but this was always his home," he said.
No expense was spared in the construction of the house which was finished earlier this year shortly after Nannu's father's death.
A Japanese themed garden complete with artificial lakes and bridges will provide the final touch.
Standing on the edge of a dusty Sylhet village in northeastern Bangladesh, the mansion is one of many built by former migrants and their families.
They were among the thousands who began leaving from the late 1950s onwards armed with little more than a determination to work their way out of poverty.
-- Returnees coming home for their twilight years --
Over the past five decades many have prospered in Britain -- especially running "Indian" restaurants - and are now keen to spend part of their twilight years in their homeland.
Across the region, the returnees are fuelling a building boom that in some places has seen prices saor by as much as 300 percent, according to Nannu.
Anwar Ali's family joined his grandparents in Britain in 1987 where the family runs three restaurants. Largely due to Ali's own success in the property business, they also own a smart detached house, which they have named "The White Palace," in Sylhet city.
Hundreds of luxury homes have sprung up here and across the surrounding countryside since the late 1980s.
In the street, naked beggar children play in the dirt but inside the house is full of marble and gilt-edged decorations, ornately carved wooden doors and the latest electronic gadgets. A gleaming silver four-wheel-drive car is parked on the driveway outside.
"I am doing quite well now but I never dreamed of being in this position. My parents are very proud of me because we had nothing before," said Ali, 36, who divides his time between Northampton, north of London, and Sylhet.
Although Ali's parents wanted a home in Sylhet for sentimental reasons, his own generation is largely focussed on the business opportunities opening up in Bangladesh where 40 percent of the population still lives on a dollar a day.
"All British Bangladeshis are in the property and land business," said Ali, keeping one eye on an English rugby match being broadcast on satellite television.
Ironically, Ali says that while his parents and grandparents went to Britain in search of a better life, Bangladesh's plentiful source of cheap labour makes life here increasingly attractive.
"I have a much better quality of life here. Life in the UK is much harder," he said.
-- Luxury village for expats --Ali's latest project is a huge luxury village aimed at British-based Bangladeshis.
The Probashi Palli, or Foreigners' Village, promises to be a "green paradise" of up to 11,000 homes on the outskirts of the capital Dhaka offering non-resident Bangladeshis the opportunity to own a property without having to build it themselves.
A smaller project for Sylhet is also in the pipeline.
The village will be aimed at the older generation who worked hard to establish themselves in their adopted country but now - like Nannu and Ali's parents -- want to spend time close to their roots,
The younger generation, however, is less interested.
"My younger brothers have not even been here," said Nannu, adding that he has even forgotten much of the Bangla language.
"I always knew this was the ancestral village, but Britain is my home," he said.