Farooki and Amitav Reza in tonight's "Aainaghar"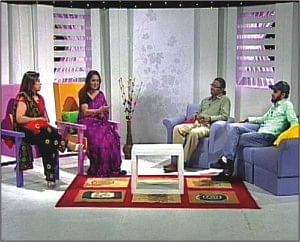 The second episode of Aainaghar, a talk show featuring celebrity guests, on Ekushey TV will be aired tonight. Tonight's episode features TV play director and ad-maker Mostofa Sarwar Farooki; Amitav Reza and model-turned actress Jenny.
Each episode of Aainaghar feature two celebrities from a specific field. At some point of the show, another celebrity guest joins in the conversation. In tonight's episode, Jenny will ask the ad-maker/ TV play director duo about the use of colloquial language in their plays.
The talk show is hosted by Aupi Karim.
Produced by Shamim Shahed, Aainaghar is regularly aired on Fridays at 8:15 pm.