RU students demand action against law enforcers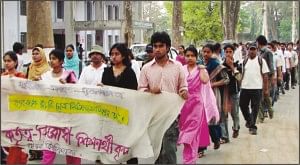 Several hundred students of Rajshahi University (RU) yesterday staged demonstration on the campus demanding exemplary punishment of the law enforcers who allegedly beat up a RU student on Tuesday night.
The seriously injured student, Towfik Aziz Rajib, studying in first year of marketing department, is undergoing treatment at Rajshahi Medical College Hospital.
At around 10:00pm on Tuesday night, plainclothes law enforcers stopped Rajib near Binodpur area when he was going to the university on a motorbike. They asked about his motorbike helmet and papers, sources said.
As Rajib asked about their identity, they started beating up him with sticks, said Rajib's family members. When Rajib shouted 'snatcher' the law enforcers lifted Rajib onto a microbus and beat him up mercilessly, sources said.
The law enforcers later handed him over to his family members.
Hearing the news, hundreds of students, mostly from marketing department, gathered on the department premises yesterday morning.
They brought out a protest procession on the campus and held a rally. They tried to enter the administrative building but police intercepted.
Later, a ten-member team on behalf of the agitating students met RU Vice Chancellor Prof Altaf Hossain at his office and demanded punishment of the persons responsible.
The vice chancellor, in the presence of university Proctor Enamul Haque, student Adviser Faridul Islam Pintu and high officials of police, assured the students that he will inform proper authorities of the matter.
The agitating students told newsman that they will submit a memorandum to the home adviser today demanding punishment of the torturers.