Democrats undecided how to end war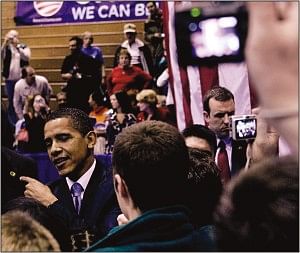 Democratic leaders returned from their spring break this week to declare that Iraq is in turmoil and that they will continue to try to force President Bush to end the war. But facing another uphill battle, party members are undecided on whether to try to cut off money or take a softer approach that is more likely to succeed.
They will have to decide soon. Congress has approved only $86.7 billion of the Bush administration's $196.4 billion request for war spending this budget year, which began Oct. 1. Most of the money is required by the military, which says it is about $102.5 billion short and will run out this spring.
By early May, the House is expected to consider spending legislation addressing the military's needs, with the Senate following suit. And by the end of May a separate policy bill should arrive that authorises billions in defence programmes.
The legislative push will come after Gen. David Petraeus, the top military commander in Iraq, and Ryan Crocker, the US ambassador there, report to Congress on the status of the war on April 8-9. The two officials are expected to tell lawmakers that impressive security gains and modest political progress have been made since last year's buildup of US troops, and that troop withdrawals can continue this fall only after officials ascertain that the drawdown wouldn't hurt security.