A Himalayan tale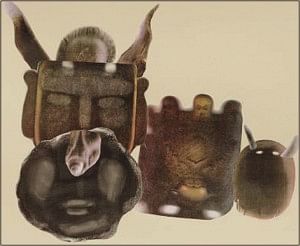 Having an artist in the family is always useful for burgeoning talent. Young Bhutanese painter, Tenzin Dorji's uncle was one such inspiration. Tenzin has had artistic leanings since his school days and believes that "art is really a study of culture through which one can learn so much about other global cultures."
While he was influenced by the tradition-based and craft-orientated Bhutanese art school, Tenzin first insight into foreign art was during his Dhaka trip in 2001. Following a friend's suggestion, Tenzin visited and fell in love with Shantiniketan. He applied to and was granted a place at Visva Bharati University, where he honed and broadened his skills. "The idea of the school itself is unique; the atmosphere something special, the freedom to work phenomenal." His overall experience was memorable, from participating in annual student shows, to attending lectures by legendary Indian master, K.G. Subramanyan.
Returning to Bhutan on completing his Bachelors in Fine Arts last year, Tenzin met Mustafa Wahid, Gallery Samatata's owner, who was touring with a team of young Bangladeshi artists. He visited Tenzin's studio and was keen that he exhibited in Dhaka. In his first solo exhibition, "Unmasked", Tenzin has tried to extrapolate his print-making skills, mostly experimenting with collage work, piecing images from traditional Bhutanese masks, adding a drawing or two as required; the result is an unusually modern hybrid. In the past, there have only been group exhibitions by Bhutanese artists, so Tenzin's solo show is a special event.
Together with three young Bhutanese artists, Tenzin's Dato Art Gallery and Studio will open shortly. The team recently won the tender to design the Jigme Dorji Wangchuck National Park's information centre. This will involve developing communication materials in the form of graphics displays and 3-D models. He also dreams of doing more traditional handicrafts projects. Tenzin conducts voluntary art classes for students at a library built by the present King and is actively lobbying the government to include art in the curriculum. "While Bhutan has a rich cultural heritage, its interpretation has to change with the times. It can be taken to the next level only if artists work hard; much progress needs to be made. We can then move forward and compete in the global village."
Tenzin emphasised the importance of regional cooperation and friendship between SAARC countries, particularly exchange programmes between artists. He is committed to bringing people together in an attempt to understand each other's cultures and wishes to conduct art camps as a means for Bangladeshi people to learn more about Bhutan.
The exhibition at Gallery Samatata (House 4, Road 95, Gulshan 2) ends on 28th April 2008.
The writer is a freelance contributor